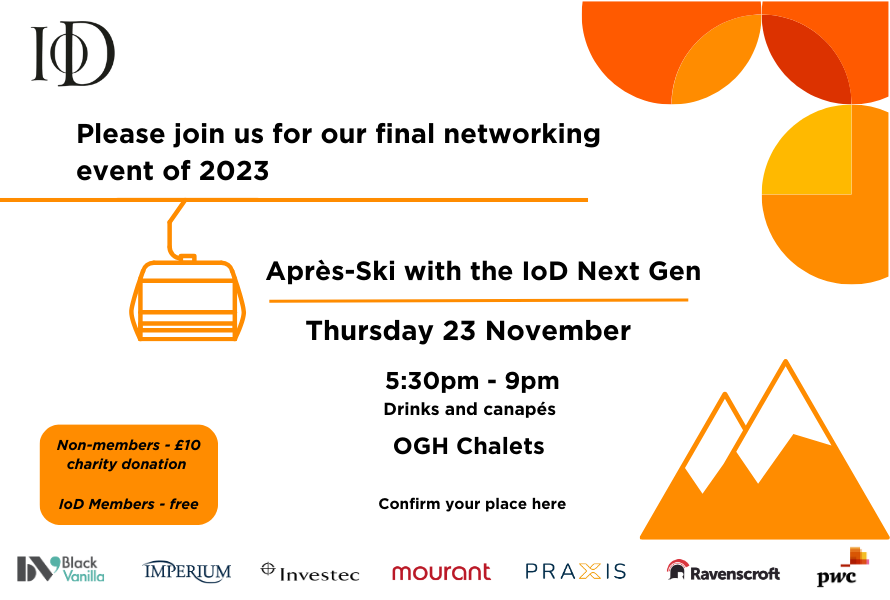 The Institute of Directors (IoD) Next Gen Forum has announced its fourth and final networking event of 2023.  

The event will take place from 5:30pm-9pm on Thursday 23 November 2023 at the Old Government House's (OGH) Alpine Lodge.  

The IoD Guernsey Next Gen Forum has connected hundreds of Guernsey's next generation through networking events and professional development workshops so far in its first year as well as launching a pilot of its own mentoring programme.  

This final networking event of the year will welcome an update from IoD Next Gen Forum Chair, Tom Zierer, on the committee's progressin 2023 and some insight into future initiatives and programmes planned for 2024.  

There are very limited spaces available and a small ticket price for non-IoD members.
You can sign up to the event here.  

To hear about IoD Next Gen Forum events first, sign up to the mailing list here.
  
The IoD Next Gen Forum is kindly sponsored by Black Vanilla, Imperium, Investec, Mourant, Praxis, PwC and Ravenscroft. 
Please let us know if you need us to make any reasonable adjustments for you to help you access our events and services.