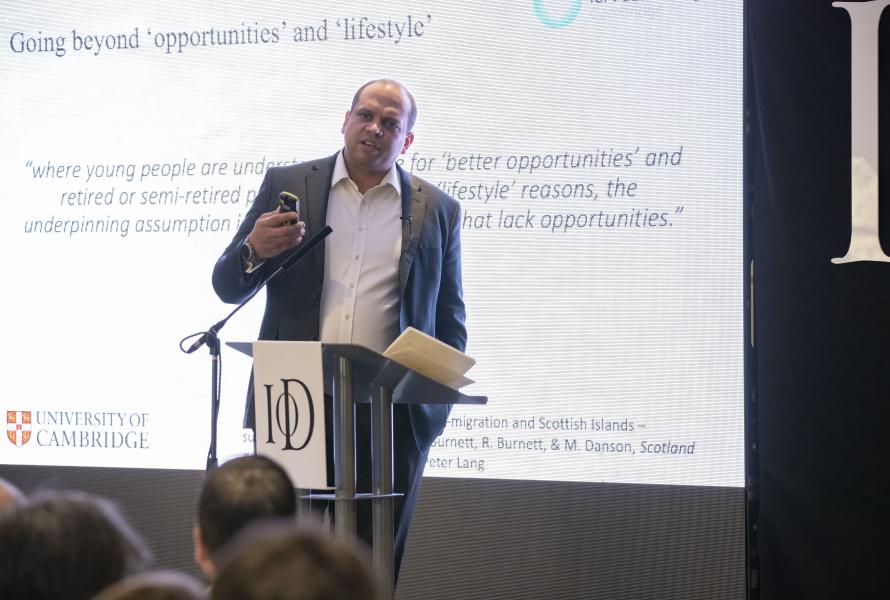 The 2022 Mid-Term explored Guernsey's 'demographic dilemma', specifically the missing generation of 20–30-year-olds and the growing proportion of older, post-retirement citizens.
More than 150 organisation leaders from across all industry sectors, States of Guernsey Deputies and civil servants attended in person at St Pierre Park Hotel and via an online live stream.  
The event began with a series of interviews with young people who shared their reasons for leaving the island or concerns about staying in Guernsey.
The hybrid event welcomed back Dr Matthew Agarwala from the Bennett Institute for Public Policy, Cambridge University. He opened his keynote speech by explaining that the demographic challenges faced by Guernsey are not unique to the island.
Globally, there has been a five-fold increase in young people (below the age of 25) moving away from their home jurisdictions.  
Live audience polls identified that 66% of attendees believe that the lack of affordable housing is the largest single barrier to maintaining the demographic in Guernsey, and 74% of businesses are currently having issues recruiting graduates/entry-level workers.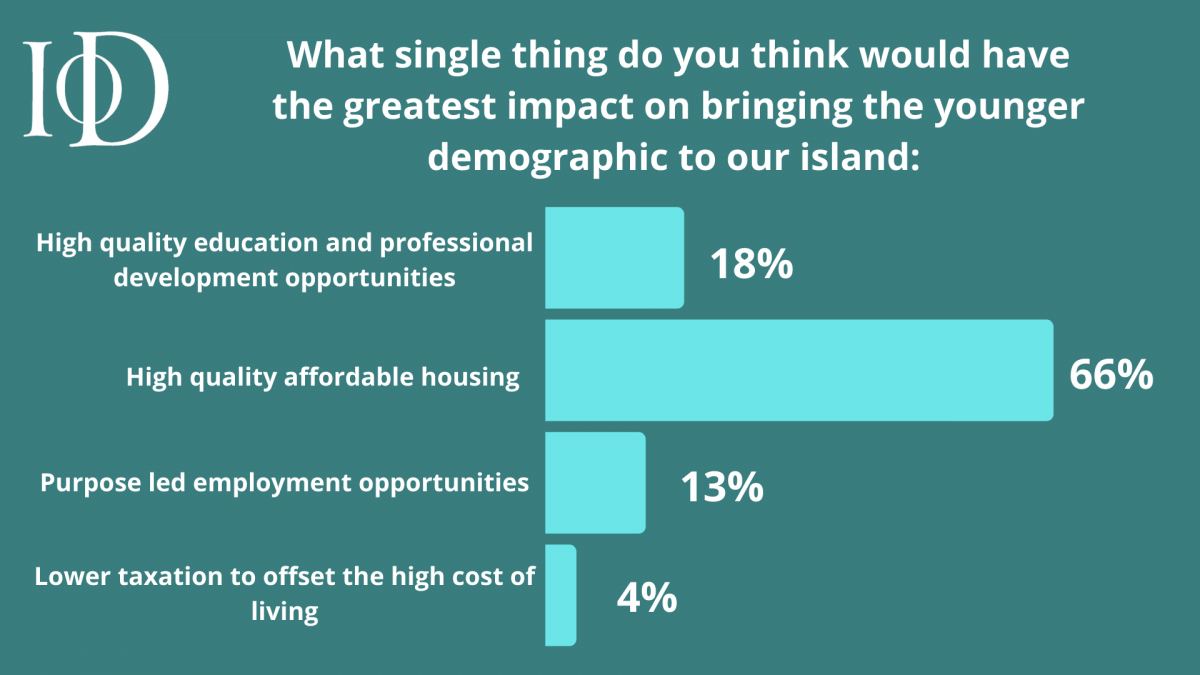 Dr Agarwala explained that whilst it's difficult to retain young people, Guernsey's growing demographic of retired individuals could remain economically active for longer. For example, Singapore is currently providing support for lifelong learning initiatives to reintroduce older generations into the workforce. He questioned whether this could be introduced in the Bailiwick.
Highlighting the government funding shortfall, Dr Agarwala highlighted that Guernsey has one of the lowest tax rates as a percentage of GDP in the world. He estimated that each taxpayer on average utilises £11,000 of public services per year and pays in £7,000 each year.
From a tax point of view, he identified two potential solutions:
Decrease the dependence on public services - utilise Guernsey's social prescribing opportunities similar to jurisdictions like Japan, where doctors often use prescribing measures like spending time in nature.
Modernise Guernsey's tax system – Guernsey is one of the only developed nations to not have consumption tax. Dr Agarwala suggested that a flexible approach could be used to fill the funding gap, without being regressive.  
Following the keynote speech, Deputy Lindsay De Sausmarez, Elaine Grey, Partner at Carey Olsen, and Chris Brock, Principal Consultant for Critical Economics, joined Matthew for a panel discussion. The panel highlighted a number of issues causing the demographic dilemma:
Ineffective use of the island's land and empty properties.
Working practices encouraging 9-5 presenteeism, rather than agile working practices which suit older people and enable them to remain in employment for longer.
In Guernsey, it is estimated that the number of over 80-year-olds is set to double in the next 10 years.
Equally the panel highlighted several areas where Guernsey is leading and can further excel:
One of the highest percentages of Chartered Directors per capita globally.
A reputation for quality and experienced professionals.
A financial services sector which has first mover advantage on purpose-driven green finance services.
Adoption of preventative health measures such as social prescribing.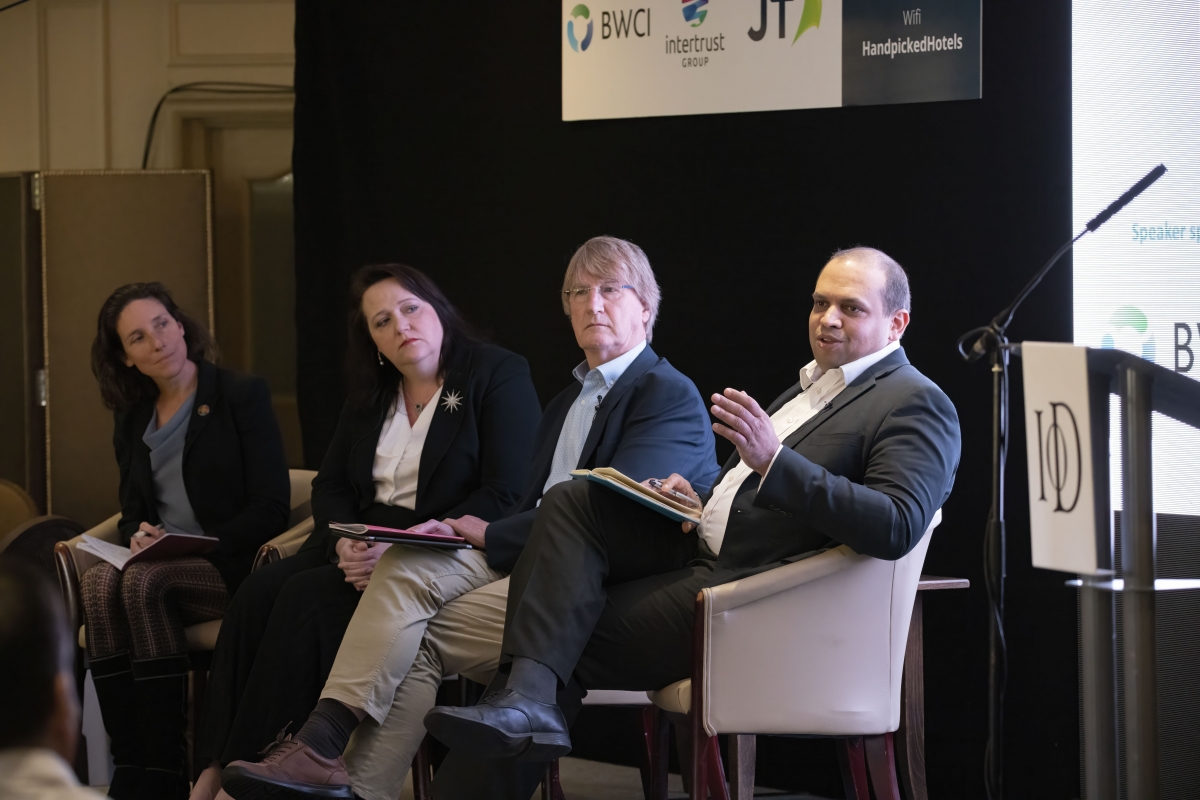 To finish the event, each panellist suggested one action which they felt could have the most significant impact on the population challenge:
Dr Matthew Agarwala – 'Introduce a consumption tax to ease pressures on public finances and services.'
Chris Brock – Guernsey and Jersey should improve their collaboration. He said: 'It costs £1.5b to run the Channel Islands separately and combining our efforts on certain areas can cut costs for both islands.'
Elaine Grey – 'There's an untapped labour market waiting to be called to action. We need to look inwardly on how to better utilise our population.'
Deputy Lindsay De Sausmarez – 'Guernsey needs to invest and modernise our transport system. Immediate action can put Guernsey ahead of the curve and swiftly cut the cost of living and our carbon input.'
Thank you to our breakfast sponsor Carey Olsen, digital sponsor JT, breakfast sponsor Intertrust and speaker sponsor BWCI for their support, and the event's speakers for their insight. If you couldn't attend the event, you can watch it below.