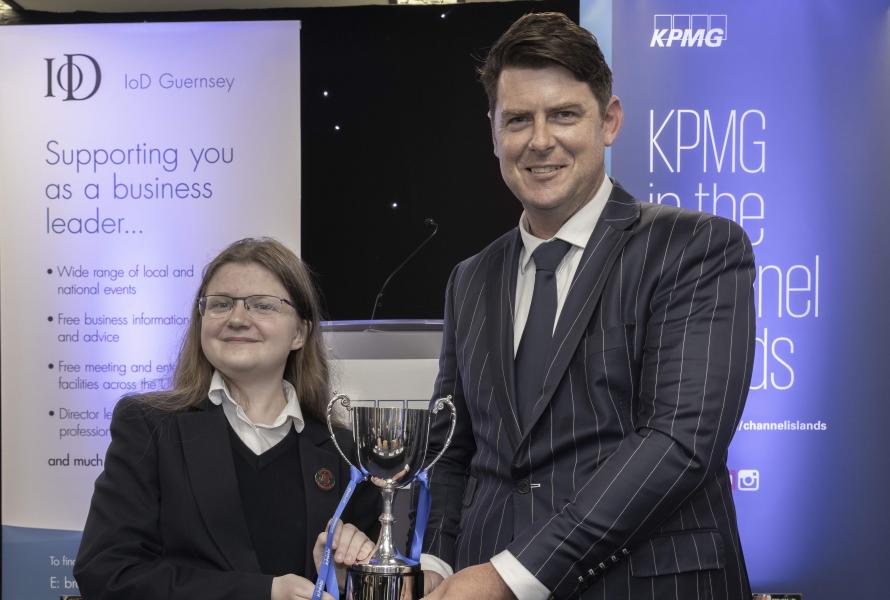 Lena Lenkovska, a student from The Ladies' College, achieved the highest accolade at this year's IoD Leadership Shadowing finals night.
Lena's presentation reported on her placement with Glen Tonks, Country CEO of Credit Suisse and the judges were impressed by her understanding of leadership and her astute remarks about the leadership actions she observed.
Ten students were shortlisted from 45 participants for the finals night where they presented to a panel of judges and an audience of business leaders, fellow pupils, teachers and family. The finalists shared what they had learnt during the placement, how leadership styles differ and the role and characteristics of a good leader.  
Wendy Dorey, Chair of the IoD, said: 'Leadership development is one of the IoD's key priorities and this doesn't just apply to our members. To develop a successful business environment, we need to consider the next generation and prepare them to follow in our footsteps. 
'Thank you to our sponsor, KPMG, and to Source Recruitment and Orchard PR. All three played a huge part in making this year's scheme a success. I'd also like to thank all the businesses that hosted students this year and hope even more participate next year. Lastly, a huge thank you to Rob Jones and Linda Johnson as the event organisers, without them the scheme would not be possible.' 
KPMG are the scheme's sponsors and Source Recruitment coordinate student placements by matching students to leaders within businesses that align to their career aspirations, wherever possible. The students also benefitted from presentation skills training given by Orchard PR.
Linda Johnson, Advisory Partner at KPMG, and Rob Jones, long standing leadership shadowing volunteer, are the event organisers, Linda said: 'The standard of presentations seems to reach new heights every year, but what never changes is how much the students and the business leaders gain from this experience. 
'The feedback we receive from all participants is a testament to how different this experience is to regular work experience. We hope the scheme continues to go from strength to strength.'
Senior businesspeople across the island share their time and experience with students who spend two days with their allocated manager, observing their management style, identifying critical leadership skills and discussing career paths and opportunities. 
Rick Martin, Director of Source Recruitment and judge at the finals night, said: 'The insight the students have gained during just a few days with some of Guernsey's top leaders is fantastic. The level of presentations we judged were top tier and all of the students should be incredibly proud with what they have achieved.'
The scheme, which has been running for more that 20 years in Guernsey, placed 45 students with more than 35 local organisations in 2021. 
This year's judging panel comprised Wendy Dorey and Jennifer Strachan from the IoD Committee, Brooke Kenyon from Orchard PR and Rick Martin from Source recruitment.
The full list of this year's shortlist and their respective awards are: 
First prize/ distinction: Lena lenkovska, The Ladies' College - shadowed Glen Tonks, Credit Suisse
Distinction: Lydia Datta, The Ladies' College - shadowed Nichole Culverwell, Black Vanilla
Distinction: Charlotte Bertrand, Blanchelande College – shadowed Paul Beale, KPMG
Merit: Ethan Ellis, Elizabeth College – shadowed Tim Wilson, IQEQ2
Merit: Holly Wilkinson, Grammar School & Sixth Form Centre – shadowed Elaine Gray, Carey Olsen
Merit: Maisy Nicholls, The Ladies' College – shadowed Jeremy Firth, Guernsey Sports Commission 
Highly commended: Louise Le Tissier, The Ladies' College – shadowed Natalie Finlayson & Linda Johnson, KPMG
Highly commended: Charlie Cohen, Grammar School & Sixth Form Centre – shadowed Olly Duquemin, Resolution IT 
Highly commended: Peter Heyworth, Elizabeth College – shadowed Lucy Papworth, KPMG 
Highly commended: Sophie Duquemin, Grammar School & Sixth Form Centre – shadowed Maree Wilms, Zeta Capital