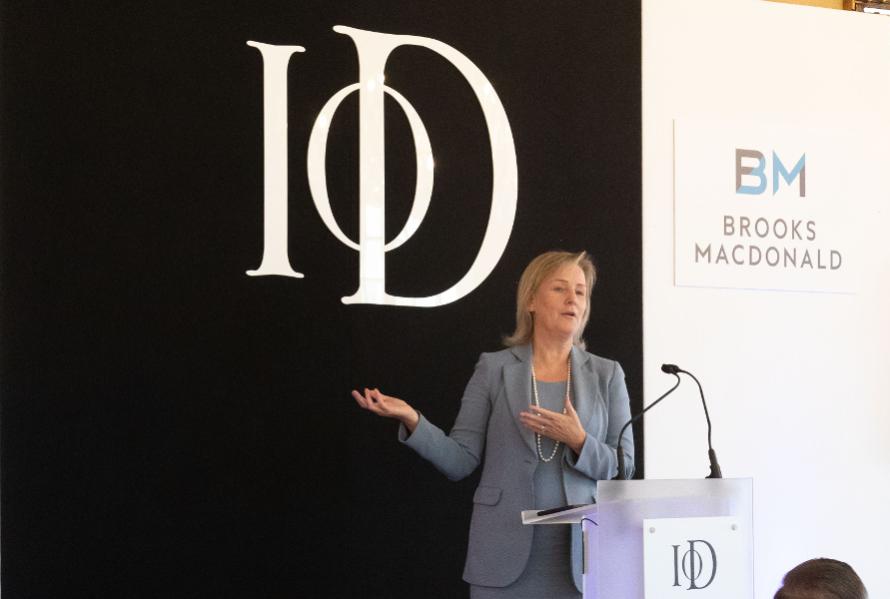 Charlotte Valeur, Chair of the IoD, was in Guernsey last week to attend two events sponsored by Brooks Macdonald. The audience, at a lunchtime gathering of IoD members and the wider business community and an evening celebration with IoD alumni, heard the Chair's objectives and wider vision for the future success of the organisation. 
Charlotte opened by observing that the IoD was an exceptional organisation, just as she thought it would be when she took up her new role. Ten months into her position, Charlotte spoke of the challenges she has faced and described the transformation programme now being undertaken to secure the future of the IoD.  
She said the IoD is a global brand, which should be preserved and capitalised upon, with a growing demand for IoD branches all over the world, particularly in the Middle East. She also explained that by next year all international branches will be franchises.  
Charlotte explained that the future of the organisation will see it decentralising and a consistent brand and offering will be rolled out to all branches. In particular there will be more clarity around membership tariffs and the associated benefits. There is also going to be a focus on attracting younger members and making the IoD relevant to entrepreneurs and SMEs. 
A key message which ran through Charlotte's presentation was the importance of collaboration and values. She believes the key to success is collaboration, whether that be inside the IoD, in business or at government level. She also spoke about how leaders could come together to help each other, respecting the need for confidentiality whilst providing mutual support and experience from diverse sectors to help solve business problems. 
Alongside collaboration, she also spoke about the importance of establishing and living your values. She explained how easy it was to make decisions when you have strong values to apply. She spoke about being open and clear about your personal beliefs and explained that she has changed her LinkedIn profile to list her values - collaboration, honesty and transparency - and urged all delegates to do the same. 
Charlotte also said that as part of governance comes a commitment towards equality, environmental issues and having a positive social impact on society. She believes these issues should be central to any organisation and has plans for the IoD to champion these further in 2020. 
In closing, Charlotte said we need to be the role models our children can look to for values and decency: 'be the role models you want them to see.' 
Commenting on the event, John Clacy, Chair of the local IoD branch, said: `it was a great privilege to welcome Charlotte to Guernsey and hear first-hand her exciting plans for the future of the IoD. We were delighted so many members supported the event and we are looking forward to replicating any changes the organisation makes here at a local level, to take the IoD from strength to strength. I believe the IoD has a very important role to play across all sectors of our community. In line with a key theme the IoD is looking to tackle nationally next year, our annual convention in October will focus on climate change and what Guernsey can do to help fight this Global Challenge.' 
You can find out more about joining the IoD's Guernsey branch here: http://www.iod.gg/join/