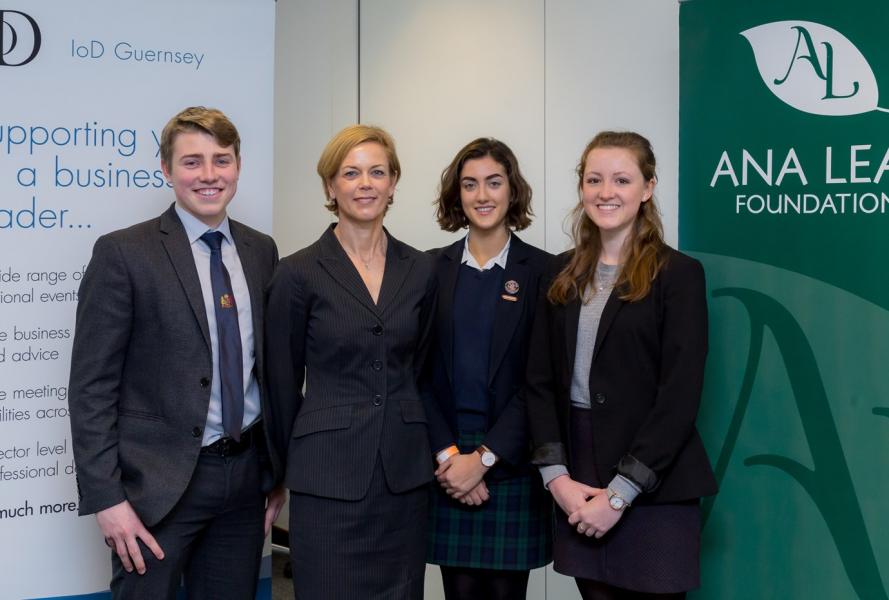 NEWS RELEASE
15 December 2017
Directors of Tomorrow student blogs explore Guernsey's infrastructure challenges
Students Abigail Dempster, Nick Hutchinson and Eleanor Wallis are this year's top three Directors of Tomorrow bloggers. 
The three students – from The Grammar School and Sixth Form Centre, Elizabeth College and The Ladies' College respectively - were among nine students nominated by their schools to take part in the 2017 Directors of Tomorrow initiative, set up and sponsored by The Ana Leaf Foundation seven years ago.
The scheme invites students, as selected by their teachers based on their interest in business, economics and current affairs, to attend the annual Guernsey IoD Convention. Each student then submitted a blog reflecting on the convention's theme which this year was 'Infrastructure'. 
Ahead of the IoD Convention the students attended an informal lunch to meet the moderator, ITN newsreader Alastair Stewart, as well as chair of the local IoD committee, Linda Johnson. This gave the students an opportunity to discuss the world of business and to voice their opinions about the key issues facing Guernsey's business leaders. 
After attending the Convention, each student was invited to write a blog based on their personal thoughts about the infrastructure topics debated such as digital connectivity, transport links, the impact of technology and how we prioritise and pay for it all. 
The Directors of Tomorrow judging panel, including representatives of The Ana Leaf Foundation, the IoD Guernsey Committee and Orchard PR, then selected the best three blogs. 
Chair of the IoD Committee, Linda Johnson, said: "Every year, we try to include topics into the debate that young people can relate to. The Directors of Tomorrow initiative not only gives students the opportunity to sit among industry leaders and listen to their opinions on the current economic challenges, but also provides a forum for them to feed back their thoughts and views. 
"This year's students were particularly engaged in the debate which was certainly reflected in their blogs. All were excellent and it was extremely difficult to select the top three.  This is exactly what we had hoped to achieve as we seek to attract and retain young talent within Guernsey." 
Amanda Simmons, a trustee of the Ana Leaf Foundation, said it was inspiring that future leaders were able to get an insight into local business and current affairs.  
"It also gives them the chance to voice their opinions on issues that surround them, both vocally at the IoD event and via their blogs.  This year, IT upskilling and how vital this is for their futures resonated throughout," said Mrs Simmons. 
The student's blogs from this year's Directors of Tomorrow can be viewed on the Guernsey IoD website here: http://www.iod.gg/directors-of-tomorrow/ 
ENDS 
Issued by Megan Thoume, Orchard PR, 01481 251251, [email protected]