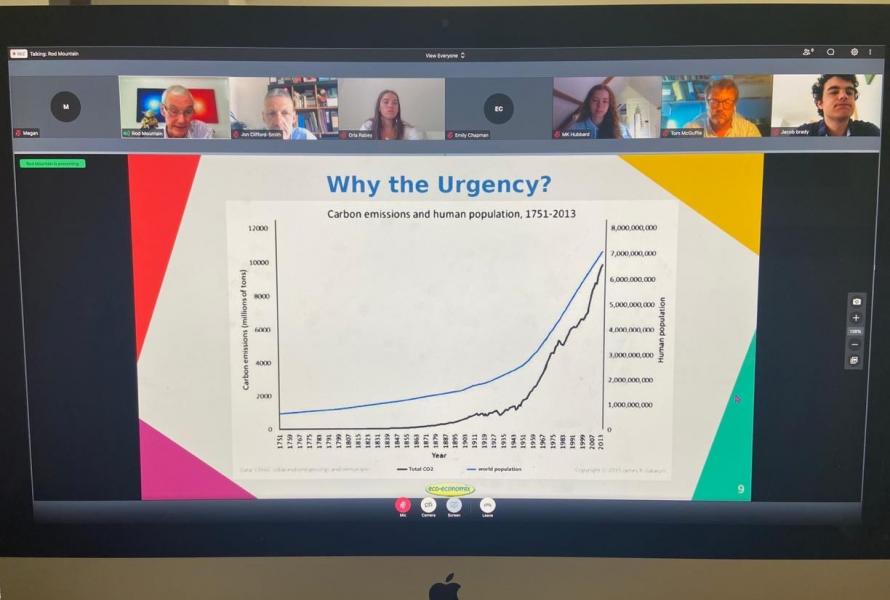 Three students from the Ana Leaf Foundation's 'Directors of Tomorrow' took part in a virtual meeting with Rod Mountain, Partner at Eco Economix, to discuss how to make the business world more sustainable.  
In previous years, Director of Tomorrow students were selected to go on a trip to the UK to visit various places including the Houses of Parliament, ITN News, the BBC's Media City in Salford, IoD's head office in Pall Mall and educational conferences. However, due to the coronavirus, the trip was unable to happen.
Instead the students, Mary-Kate Hubbard from Grammar School & Sixth Form Centre, Jacob Brady from Elizabeth College and Orla Rabey from Ladies College, had the opportunity to have an interactive virtual discussion with Mr Mountain who is a sustainable business campaigner, IoD member and Special Interest Group representative. He also recently spoke nationally to IoD members through a webinar. During the talk with the students, he shared his top tips for the steps needed to make organisations carbon neutral. 
The Directors of Tomorrow scheme invites teachers to nominate 10 students, based on their interest in business, economics and current affairs, to attend the annual Guernsey IoD Convention in October. From this each student submits a blog reflecting on the convention's theme, in 2019 it was 'Climate change: Can Guernsey Clean Up?'. The blogs are then judged by representatives from The Ana Leaf Foundation, the IoD Guernsey Committee and Orchard PR and three students are chosen to attend a further event.
During the talk, Rod discussed with the students the environmental impacts on businesses, the benefits for organisation putting sustainable measures in place and the ways different businesses can take ownership in reducing CO2 emissions. 
Mary-Kate Hubbard from Grammar School said: "I found speaking with Rod Mountain about how businesses should implement climate change mitigation very insightful. He began by introducing some key concepts regarding humanity's effect upon global warming, but he explained them to us at a level beyond what is typically heard in the media. What I found most interesting was his focus on how eco-friendly businesses can easily be cheaper and more profitable to run, so long as all the right information is readily available for businesses in order to make such changes."
"Considering the views I heard from some of the companies at the IoD Climate Change Convention, I think this emphasis upon the ease and profitability of such changes could be very convincing in influencing a rise in eco-friendly businesses. After asking a question about the possibility of legislation being introduced to influence business eco-friendly behaviours, I found it interesting to learn that while new laws may spark change at a fast pace, it would be more likely, and significantly faster, for individual businesses to start making these simple but effective changes immediately."
Jacob Brady from Elizabeth College said: "The talk was really interesting and helped unlock some potential solutions to the long-standing challenge of if a business can be economically viable and also environmentally sustainable. I think we really learnt just how the two factors can work together and actually improve a business overall both financially and environmentally. This message is something I feel is really important we demonstrate works, and then spread the message across the business world."
Orla Rabey said: "I found the talk very insightful into the world of sustainable business. The changes he described in which most businesses can make seem simple and effective, makes me wonder why not more businesses are implementing them in the way they work. Rod Mountain was inspiring and has made me excited to go on and study at university so I can make a positive impact on the world like Rod has done."
Amanda Simmons, Trustee of the Ana Leaf Foundation, said: "The Directors of Tomorrow initiative was set up ten years ago to give local future leaders the opportunity to voice their opinions and get involved with topical business news. The students have presented a real passion for this topic and it's been wonderful to hear the knowledge they have taken away from the IoD Convention last year and the recent talk with Rod Mountain. On behalf of the Ana Leaf Foundation, I would like to wish all the students the very best of luck in their future studies, and I am sure we will hear from them again as they progress out in the business world."