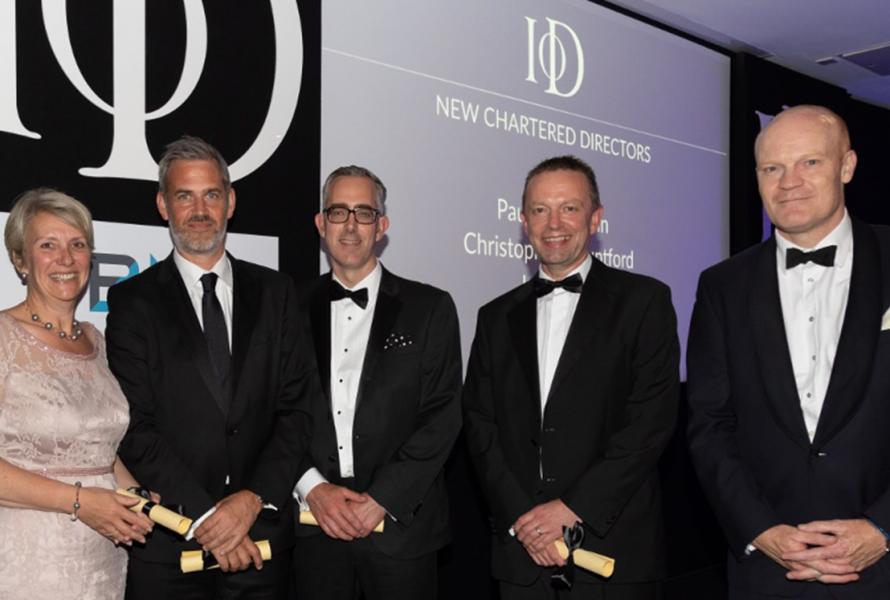 Over 30 newly qualified directors were recognised at last week's IoD dinner where guests were also impressed by the evening's keynote speaker world-record holder, Mark Beaumont BEM.
The IoD Chairman, John Clacy and dinner sponsor Kevin Boscher Chief Investment Officer, Brooks Macdonald International highlighted the importance of qualified and high calibre directors. Mr Boscher said:  'This event served as a welcome reminder that, whilst we are living in a world that is increasingly complex and fast moving, we are fortunate in Guernsey to have a good number of strong leaders across our private and public sectors who are capable of instigating the change we need to prosper.'
After a champagne reception, sponsored by RBS International, Speaker Mark Beaumont recounted his 2017 world circumnavigation cycle which he completed in 78 days and 14 hours, averaging 240 miles a day. He explained to the audience of business leaders how his team beat their target of 80 days and smashed the previous record by 40 per cent. Preparations for the ride included breaking the Cairo to Cape Town record, which he used to fine tune his team selection.
Five individuals received their Certificate or Diploma in Company Direction, five new Chartered Directors were recognised on the night: Lynne Duquemin, Paul Duquemin, Christopher Mountford, Jon Bridel and Derek Millar.
'Becoming a Chartered Director is an endorsement of your skills, professionalism, and knowledge of corporate governance best-practice, ' said Mr Clacy.
'Guernsey has a high proportion of Chartered Directors, and we hope that we can become known as a centre for director excellence.
'As substance and governance becomes ever more important, our ability as a finance centre to call on a pool of highly talented and qualified directors is a real strength and one which will grow in importance. The GTA is one of Guernsey unique strengths, and we need to ensure it continues to grow and thrive in the new education strategy.'
Mr Boscher added: 'I was delighted that Brooks Macdonald was able to support this dinner, which gave us an opportunity to celebrate individual success, recognise our combined strengths as a business community, and hear the fascinating insights that our guest speaker Mark Beaumont had to offer us.'
The IoD would like to thank dinner guests who gave generously and raised over £1,500.00 for the Sarah Groves Foundation.
Images from the event can be viewed here - https://chrisgeorge.dphoto.com/album/f3f52g