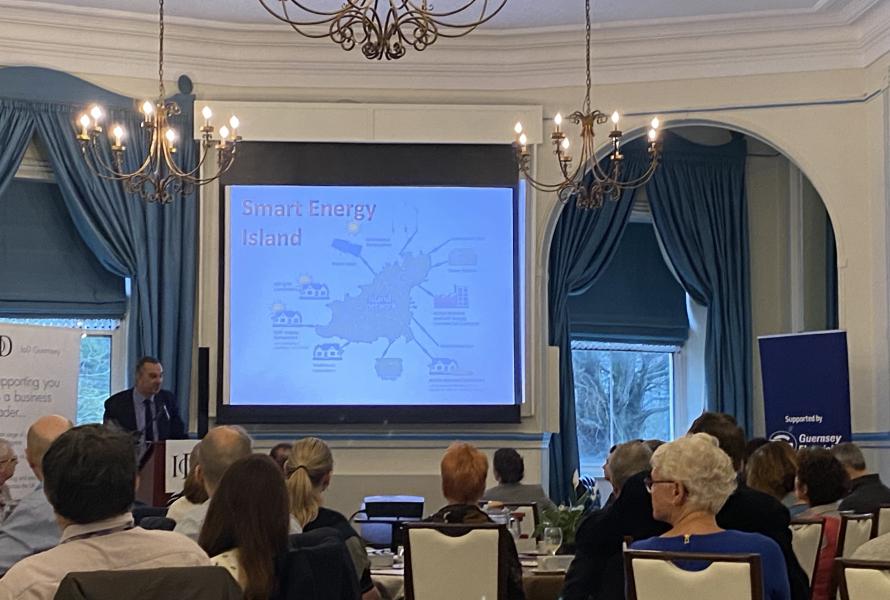 The IoD's February seminar, sponsored by Butterfield, focused on how Guernsey's energy sector is transforming and playing its role in managing the global climate change crisis.  
Alan Bates, Chief Executive of Guernsey Electricity, discussed how the electricity sector is already transforming and specifically introduced the steps the utility company is taking to contribute to the island's environmental targets. The first stage of this being enabling us all to plug into renewables.
In opening the seminar, Alan discussed the history of Guernsey Electricity and said the energy sector is now evolving at an incredible pace and that's why we all need to adapt to a future that looks different than today. 
He said that the environment is receiving a significant amount of attention, and that a shift of aspirations in society means Guernsey Electrcity's core focus has therefore had to change.
The primary source of energy for modern day society is moving from a hydrocarbon basis to a sustainable and renewable future. For Guernsey the States Energy Policy will allow this journey to be strategically managed.   
He said that market forces alone are unlikely to not enable Guernsey to reach its carbon emission reduction targets . Touching on the Energy Policy, Alan said the policy needs to set out a clear vision of what needs to change and how we are going to manage the transition; it also needs to be proportionate and effective for the island. 
Guernsey Electricity has a plan to provide enough sustainable energy to allow the island to decarbonise not only electricity generation but also heating and transport. They are also focused on providing measures to help everyone use electricity wisely to the benefit of all. Alan said that they are striving to lead by example with the essential changes required in the energy sector.  
To enable Guernsey to move towards decarbonisation we do need another cable to France to provide resilience and security of supply and doing nothing is not an option. The alternative will require substantial investment in the on island power station. He expected the second cable to happen in the mid-2020s.
In closing the seminar,  Alan said that Guernsey Electicity's long-term strategy is to continue to invest and plan for a carbon-neutral future and to enable Guernsey to be a "Smart Energy Island."
The next IoD Breakfast will be on Friday 27 March 2020 and you can find out more and book here.