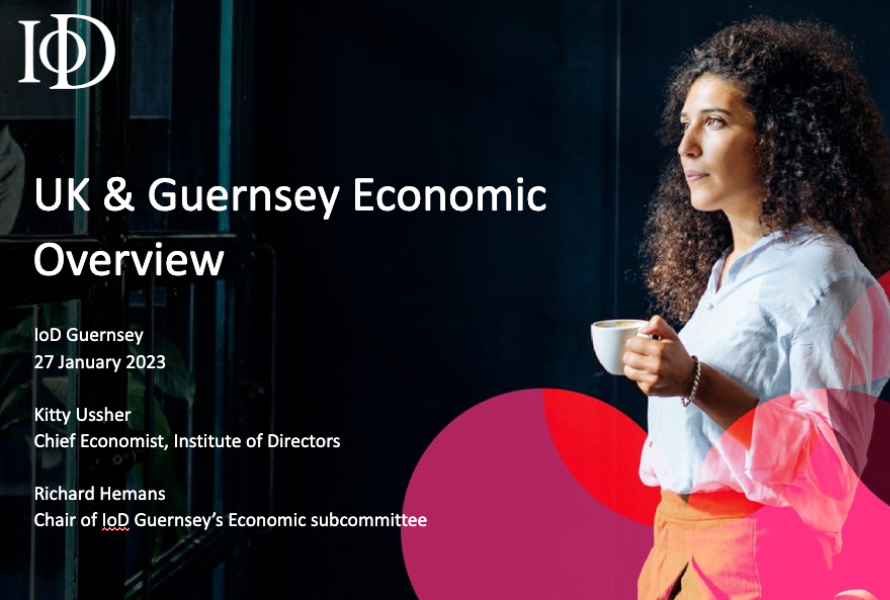 Our January breakfast webinar, sponsored by Butterfield, welcomed IoD Chief Economist, Kitty Ussher, and IoD Guernsey's lead on economics, Richard Hemans to examine the UK's economic outlook for 2023 and what implications this may have for Guernsey.
Whilst examining what businesses can expect from the year ahead, Kitty highlighted four key headlines for the UK:
The UK economy is teetering on the edge of recession. The latest data from November shows we may avoid a 'technical recession', but this will depend on interest rates and consumer spending behaviour.
Inflation is peaking and expected to drop, but there is still uncertainty as to when and by how much rates will fall. Annual CPI inflation was 10.5% in December, down from a peak of 11.1% in October. However, this is mainly due to falling fuel prices and the government's household energy support scheme. Food inflation currently sits at 16.8% and is still rising.
Unemployment is rising, but we have experienced a lot worse over previous decades. It still remains relatively low at 3.7% in the three months to November, but is continuing to increase.
Business confidence reached near record lows in December 2022. The economic reality isn't brilliant, but the mood in business is far, far worse.  Directors need to determine how much they are being affected by the mood, rather than the reality , when planning for their businesses this year.
Key conclusions for Guernsey's economic outlook were summarised by Richard Hemans as follows :
GDP recovered strongly in 2021, but will be lower in 2022 - and lower still in 2023. This is due to lower consumer spending and business investment, driven by higher inflation and interest rates
RPI has increased significantly (although not as high as Jerey or the UK), but is likely to fall in 2023. However, it is unlikely to return to pre-2022 levels because of tight labour and housing markets.
The employment market is tight and recovering from the pandemic, but unlikely to grow further in 2023 because of constrained labour supply plus a weaker economy
Earnings will continue to fall because of inflation (despite the tight labour market), putting downward pressure on consumer spending and therefore the economy
The housing market has boomed since the pandemic – weakening consumer demand will reduce transactions, but prices are likely to be supported by the ongoing housing supply shortage and States policy
The fiscal deficit is increasing – this needs to be addressed urgently
If you missed this webinar, it is available to watch here. 
Thanks to our breakfast sponsor, Butterfield, for continuing their support of our breakfast events in 2023.
Our next breakfast event will host Jacki Hughes, Executive Principal of the Guernsey Institute, who will give a progress update on the Guernsey Institute. Find more information about the event here.