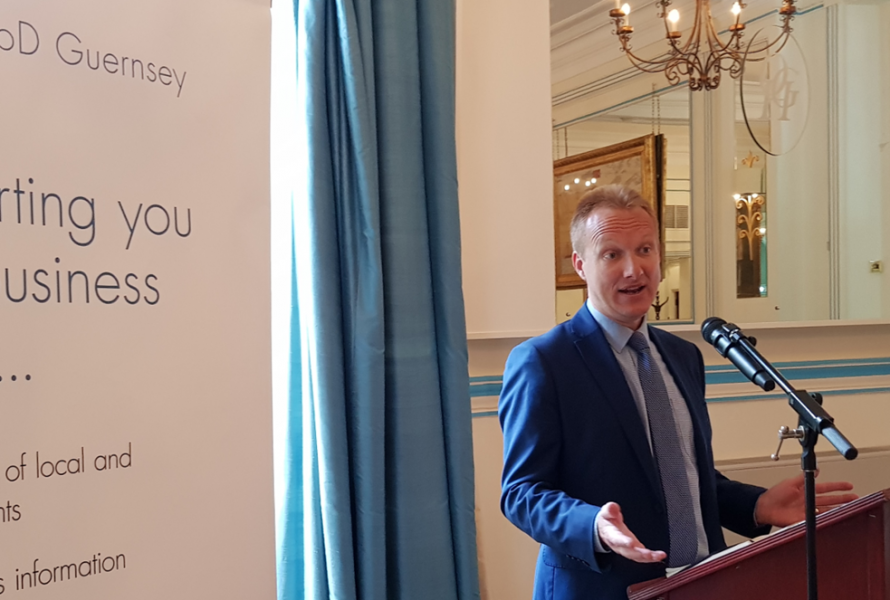 The IoD's July breakfast seminar, sponsored by Butterfield, heard from Phil Eyre, founder of Leaders. The audience heard Phil's take on the top three leadership challenges facing Guernsey today.
He believes there are three key themes that local business leaders need to be aware of - nimble and first-class teams, the island's relational capital and the need to focus on the absolute essentials.
A nimble leadership team.
Phil discussed the ability to adapt, think energetically and take action, all of which are critical to leadership success.  He went on to explain that whilst the concept that great ideas are formed, developed and executed in high-performing teams is well understood, the ability to form agile teams in Guernsey is a challenge.  He said he often found leadership teams locally comprise a mix of exceptional and less exceptional talent, but that this quality mix leads to difficulty in building momentum in performance as energy, creativity, tenacity and performance tend to be diluted.
Phil believes there are several reasons for this talent mix.  In his experience, leadership appointments are often used as a staff retention tool, rather than with the long-term business horizon in focus.  Appointments to reward long service or as 'the next step' do not necessarily mean that those promoted shift their mindset into a leadership role.   
He went on to discuss the assumption that an executive team 'should' comprise a large number of people and said that whilst good governance requires a healthy blend of perspectives, this may not need so many people. Phil believes that in Guernsey it is better to build a smaller, high performing team as the chances of appointing nine or 10 high performers can be a stretch.
 Leveraging relational capital
Phil discussed his belief that there is some amazing talent and experience on the island, all within touching distance, and therefore we have the opportunity to enrich our own perspectives from other leaders in ways that could not be achieved in a larger place.  
He believes different sectors should learn from each other and collaborate; this sentiment echoes IoD Chair Charlotte Valeur's own take on collaboration. As Phil explained, it's too easy to be focused on your own field of expertise and not learn from neighbours and an 'echo chamber' can easily form, diminishing the quality of decisions and actions.
Phil then went on to discuss how thinking outside of the bubble takes intention and leaders need to set aside their need for individual recognition as this can limit co-working and collaboration.  He said if we are too focused on claiming credit for an idea we run the risk of failing to develop a good idea in the first place. 
Focusing on the essential
Phil said that as a small island, we each need to focus on what we do essentially very well and do it better than anyone else, anywhere. Quality commands a higher price; whilst a volume-approach to work and business is possible, it's especially difficult to do this in Guernsey.
He said 'best' does not necessarily mean 'bigger' and diversification can lead to spreading resources and talent too thinly and achieving results that are merely good rather than great. Phil discussed the need to be able to offer the highest quality and charge appropriately for it.
He explained that he challenges his clients to focus on what makes them essential and unique, what they are doing to make them world leaders in their field. He discussed the three factors this comes down to:
providing excellent service
developing talent, recruiting is only part of the picture; developing and enhancing talent is a differentiating factor
choosing to say no to some opportunities in order to focus on other higher-value work
Commenting on the event, Stretch Kontelj, Vice-Chair of Guernsey IoD, said:
'Phil Eyre's presentation on leadership focused on three themes: nimble teams, the importance of relational capital and staying focused on quality rather than quantity. Phil made the point that Guernsey has a wealth of latent leadership talent that isn't being tapped.
He emphasised the need to spend time fostering relations at a deeper level than just networking. This can only be done by investing time in meaningful conversation over time.
'Phil expressed his support for reverse mentoring, particularly by millennials of senior executives. The presentation engendered a lively Q&A with a number of the questions focusing on the functioning of the States and the forthcoming general election. Phil said that he would want to see candidates who are good active listeners with a vision that they can effectively articulate.'
Phil closed by saying, 'There is no genuine growth without tension and challenge. Whilst the island's challenges are significant, the future for Guernsey has the potential to be very bright indeed - if we choose to face and overcome these hurdles.'
 The next IoD Breakfast sponsored by Butterfield will be in September.