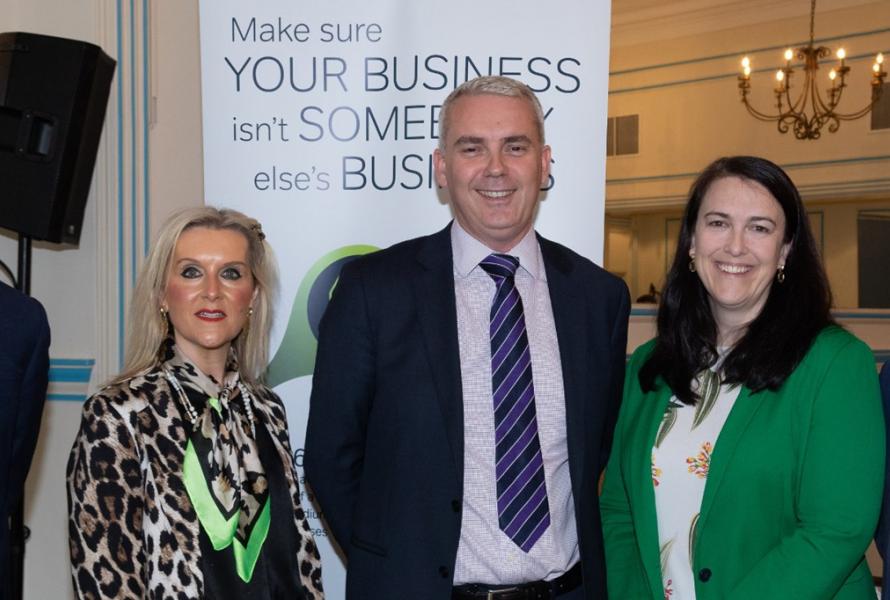 The Institute of Director's (IoD) April seminar, sponsored by JT, asked if Guernsey is leading from the front in terms of innovation in financial services. 
Panellists Mark Elliott, Director of Insurance Linked Securities (ILS) at Aon, Nick Vermeulen, a member of Guernsey's fintech strategy group and partner at PwC and Andy Sloan, Deputy Chief Executive, Strategy at Guernsey Finance and Chair of Guernsey Green Finance, discussed the island's recent innovations in a session moderated by Fiona Le Poidevin, CEO at The International Stock Exchange Group and IoD Guernsey Committee member. 
Tamara O'Brien, Deputy Managing Director, JT Guernsey and long-standing sponsor of the IoD seminar series, opened the discussion by highlighting the importance of business leaders in the room coming together to discuss and debate key issues that influence our island and our economy. She also, rightfully, reminded the audience that we need to consider and balance risk in line with innovation and the importance of our island staying secure and fit for the future in a digital world is paramount. 
Before introducing the panel moderator, Fiona Le Poidevin, Tamara concluded her welcome by sharing statistics released by the World Economic Forum showing that 74% of businesses could expect a cyber-attack during 2019 and yet in a recent UK wide IoD survey, less than 50% actually had a cybersecurity strategy in place.'
Mrs Le Poidevinspoke about the drivers for innovation - business need, hunger, collaboration and ideally a track record - all of which Guernsey has demonstrated through past and more recent history. 
Nick Vermeulen suggested that we need to put Brexit to one side and consider the macro trends, and that globally, we are seeing two main topics driving the innovation agenda - climate change and technology - both of which have been catalysts for recent innovations from the island's financial services industry. 
Dr Andy Sloan reminded the audience that the Guernsey Green Finance initiative, one of Guernsey's recent innovation success stories, is about doing good things in the world and that the island is "a force for global good by being a centre for sustainable finance." Guernsey is one of 22 financial centre members of the UN's Financial Centres for Sustainability (FC4S) network, and has featured in a report highlighting the progress that has been made. 
Mark Elliott spoke about Guernsey's niche position in ILS but was clear that we must maintain that momentum and remember basic competitive advantages such as time zone and language. He also reminded the audience of GIIA's work with the Guernsey Financial Services Commission, the green insurance consultation and the new hybrid model for ILS which will increase efficiency and deliver cost control for fund managers, making it an attractive prospect versus products available in competitive jurisdictions such as Bermuda. 
Guernsey can market itself as a jurisdiction of choice for green insurance products, but Mr Elliott questioned how the island is bringing it all together and asked are we going after it hard enough? 
The island's younger generation and their role in its future was highlighted by Mr Vermeulen and Dr Sloan  who agreed that the industry needs to get our children on board with Guernsey's role in global finance and demonstrate to the next generation the island's innovation and approach to themes that matter to them such as green finance. 
Mr Vermeulen spoke about electronic agents which represent another leadership position for Guernsey. "We have a 'certain' regime for electronic contracts - other countries, like the UK, are trying to figure how to legislate for this; meanwhile, Guernsey has done it." 
The panel closed by making two important points. Firstly, how we use technology ourselves, and how the next generation will interact with technology is critical to consider - we need to think about our future clients to stay relevant and that plays across all sectors. 
Secondly, the importance of making colleagues on and off island aware of the island's innovations was highlighted, with Mr Vermeulen saying, "we all need to talk more and not just get stuck in our day jobs."
Mrs Le Poidevin said "The panellists emphasised Guernsey's current leadership position in a number of emerging fields such as green finance, ILS and a number of fintech areas which was well received by the 50 strong audience.
"Being a small jurisdiction means we can be nimble and adaptable to new circumstances we find ourselves in but it also means that, through the financial services sector, we can innovate and develop new ideas which create a 'multiplier effect' on a global scale, despite our modest size. 
 "Guernsey provides an ideal environment for frictionless global capital flows and that, combined with innovations in areas such as green finance allows us to be a force for good, for example in the global fight against climate change."