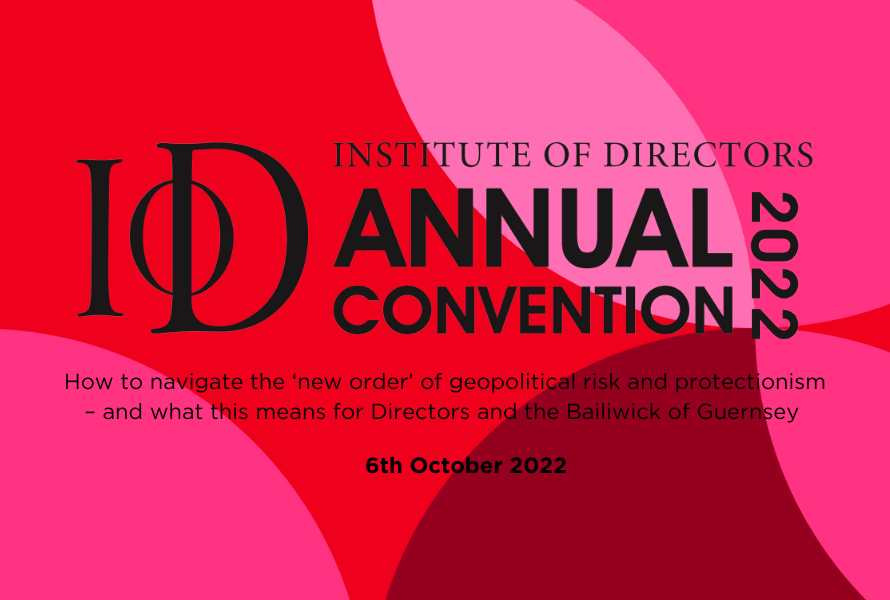 The 2022 IoD Guernsey Convention will focus on how to navigate the 'new order' of geopolitical risk, protectionism and what this means for businesses and directors in Guernsey. The event will take place on Thursday, 6 October, at the David Ferguson Hall at Beau Sejour. 
The event will welcome Dr Wolfango Piccoli, Co-founder and Director of Research at Teneo – a global CEO advisory firm – as the keynote speaker. 
Dr Piccoli is responsible for co-managing Teneo's global political risk platform and leads the firm's European analysis and advisory work. He has extensive experience helping financial institutions and corporations manage political risk in the UK and Europe. As a respected expert on international relations, Dr Piccoli is often invited to appear on major TV networks and is frequently quoted in the Financial Times, Bloomberg, and Reuters.
Geopolitical risks, rising inflation and the urgent energy and food crisis present exceptional challenges for directors, who not only need to guide their organisations safely through these challenges - but also focus on growth; the event will explore how Guernsey's directors can navigate these risks, build resilience and future-proof their businesses.
The event will also host a panel session to discuss how boards must adapt to meet these future demands. This will include how to look beyond the bottom line and the year ahead, how to break away from the mould of traditional decision-making, the importance of communication with key stakeholders, and how to create lasting change. Details of the panel will be published in due course. 
Many boards are often limited by the traditional rules and culture of business. The panel will discuss the changes directors should make to their boards today to engage key people within their business, tackle the challenges that lie ahead and make the necessary decisions to future-proof their business – and the Bailiwick. 
To help boards respond to the current challenges, topics will also include youth activism and how directors need to nurture the next generation of leaders to help Guernsey secure its independence and resilience.
As well as the keynote speaker, dinner and panel discussion, the evening's schedule will also allow time for discussion and networking.
The event will take place at the Dave Ferguson Hall at Beau Sejour on Thursday 6 October. The event will begin with a drinks reception at 4pm, presentations beginning at 5pm and finishing at 9:30pm. 
To book a table, please email: [email protected].
The Annual Convention is sponsored by:
Headline Sponsor – Carey Olsen
Speaker Sponsor – Teneo
Panel sponsor - Deloitte
Dinner Sponsor – Credit Suisse
Annual Digital Sponsor – JT
Event sponsor - HFL
More sponsorship opportunities are available. Please email [email protected] for further details.