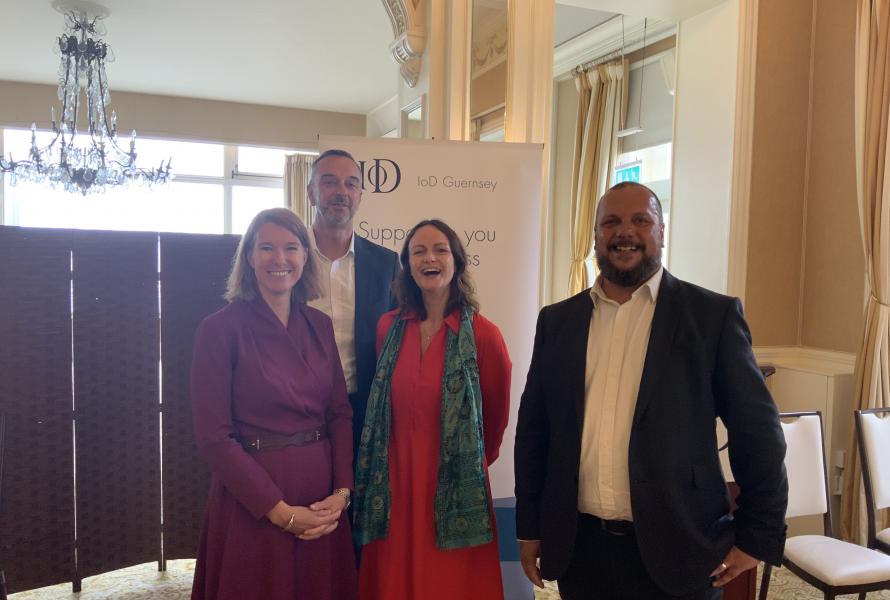 IoD Guernsey's April breakfast, sponsored by Butterfield, saw a panel of local leaders explore the future and resilience of Guernsey's energy sector. Alex Herschel, Managing Director at Guernsey Gas, Alan Bates, Chief Executive at Guernsey Electricity and Justin Bellinger, Chief Executive at Sure in Guernsey, were joined by Wendy Dorey, IoD Guernsey's Chair, as moderator.  
The event identified how the current geopolitical landscape is affecting decision-making in the energy sector. The local experts also considered these impacts in relation to the States of Guernsey's Energy Policy, which aims to adopt net-zero emissions by 2050.  
Alongside energy experts, Justin shared his insights of the disruption and transformation of the digital sector, drawing useful parallels with what we are seeing in the energy industry today.  
Wendy Dorey, IoD Guernsey's Chair commented after the event: 'Energy resilience and our transformation to a greener, more sustainable energy future is at the top of the corporate and community agenda right now.  
'It was pleasing to hear the panel stress the need for collaboration; clearly the challenges are significant, and we will only be able to overcome the hurdles we all now face if the States of Guernsey, the regulator and the energy providers all work together.' 
Each speaker has shared their key takeaways from the discussion and broad themes on how best to move forward.  
Justin Bellinger, Managing Director of Sure in Guernsey: 
The energy transition we are going through now is similar to the change in telecoms 20-30 years ago, when we moved from a voice-based environment to one where data is more important.

 

Change is led by customer demand. The role of a utility is to provide the system, not to decide what people do with it.

 

The energy transition will be enabled by technology, so businesses like Sure will be part of the solution alongside energy companies.

 

Regulation works when it is given a clear direction. It's the role of government to decide and support the direction of travel and for providers to make things happen - like with Guernsey Fibre.

 

Change doesn't come at once. We didn't go from telephone exchanges to data centres overnight; it has been a process of gradual change, culminating in the fibre roll out. The Net Zero transition will be similar.

 
Alex Herschel, Managing Director at Guernsey Gas:  
Cooperation – it's vital that energy suppliers, the States of Guernsey and the regulator all work together to ensure we have a clear direction for the island; the Energy Partnership is the ideal forum to achieve this.

 

Sustainable – it is not enough to only think about 'big ticket' items like macro infrastructure, we need to also focus on ways to remove and reduce energy demand through the use of energy efficient technology, energy saving products, and behavioural change; think sustainability hierarchy.

 

Customer demand – the journey to net zero is in many ways going to be driven by consumer demand. The public want smart tech, green energy, more sustainable products and more conscientious service providers; we need to listen and respond by providing choice.

 

Research – there are lots of exciting new technologies out there, such as green hydrogen, but many are not ready to 'plug in' now. Watching, waiting and benefiting from research and development that is being driven by the UK's new energy strategy will serve us well; and it shall happen quicker than we think!

 

Action – it is tempting to spend a long time discussing the benefits of one solution over another, but ultimately this is not an 'either/or' situation. Taking action is what is important, starting with smaller, lower hanging fruit and making real change that way; while we work out what the overarching changes are going to be.

 
Alan Bates, Chief Executive at Guernsey Electricity:  
As an island we have committed to net zero but to achieve this target, in an affordable way, will be extremely challenging. The subsea cable has provided a significant part of our 37% carbon reduction for the island, and we need to secure these savings. Government policy now needs to provide direction on not only how we "bank" these savings but also provide a pathway to further decarbonise energy usage on the island.

 

There are so many options available and there isn't a silver bullet that will solve not only the energy trilemma (security, environment, affordability) but also addresses the need to consider energy independence and economic enablement. All the potential options come with opportunities and risks.

A comparison of energy sources

.  

 

Baseload resilience is extremely important; the power station has a role today to top up the last 6% of electricity consumption but also to back up the single importation cable. As an island, reliability and security remains key when considering the options available to us. To give us a secure supply in the short term there is only a decision between replacing the power station (potentially with a new fuel) or installing further interconnection - both of these options support local intermittent renewable generation.

 

Energy costs are spiralling across all jurisdictions but due to our price hedging (in place until 2025) we will be able to protect consumers from tariff rises in the near term.