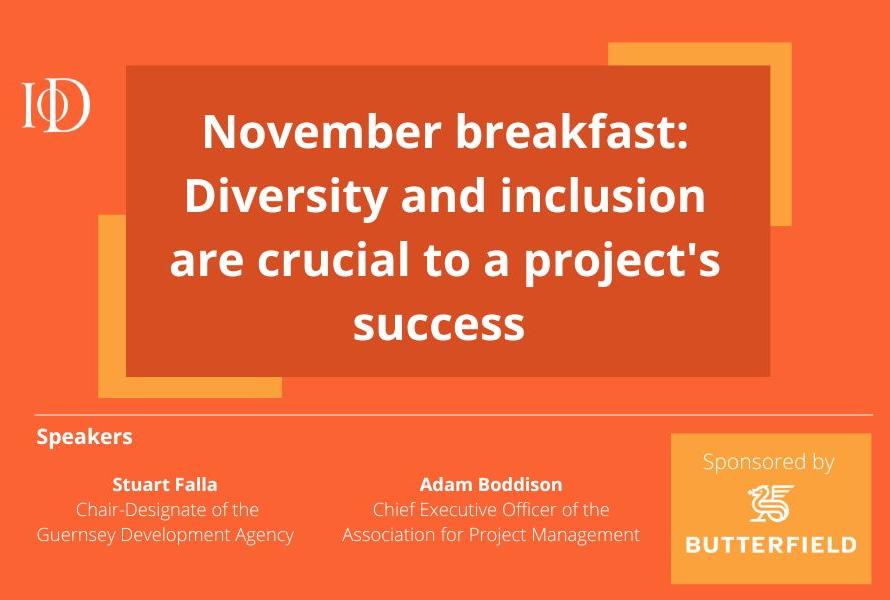 IoD Guernsey's November breakfast seminar, sponsored by Butterfield, focused on the importance of having a clear vision - and, most importantly, how to deliver that vision through professional project management.   
The event welcomed Stuart Falla, Chair-Designate of the Guernsey Development Agency, and Professor Adam Boddison, Chief Executive Officer of the Association for Project Management (APM).
Stuart opened the session by analysing how to determine the success of a project. He said that projects should not be defined as success or failure based solely on financial criteria; he explained how success criteria should not be linear and must be identified at the initial planning and strategy stage.   
Adam Boddison began his talk by identifying how change is the only constant for today's leaders, whether managing a significant project or simply navigating the shifting sands of today's economic and business landscape.  
Key takeaways from the session include:   
Effective project management can be a catalyst for change for leaders. Every leader has a vision, and delivering that vision requires a strategy. Very often, a vision fails not because of the idea itself but how it is articulated or interpreted by its associated stakeholders. This is more relevant today than ever before due to how leaders have evolved from task setters to change makers.  
Diversity and inclusion are essential for a project's success. Adam highlighted that including diverse processes within a project team isn't just the right thing to do but also contributes towards the project's success. Recent research undertaken by Southampton University has found that including diversity within a project management team improves its chance of success.   
When starting a project, think of employing competent project professionals. Adam highlighted how some project managers sit within other roles or industries, and there are many opportunities for professional development for these project managers. The industry has recently received its royal charter and demonstrates a clear strategy for the profession's growth.  
Move the goalposts about the success of projects away from the iron triangle (schedule, budget and scope). Adam mentioned the Channel Tunnel project, which received a wave of negative attention after completion for being over budget and missing time, cost and quality targets. However, this public perception has changed over time; we need to view large-scale projects through the lens of long-term societal impact.  
Thank you to Adam and Stuart for their insightful contributions and our breakfast sponsor, Butterfield, for their continued support.
IoD Guernsey's final breakfast event in 2022 will take place on Friday, 2 December, focusing on the economic benefits and opportunities for Guernsey's fibre rollout. Further details will be announced via the IoD Guernsey's website and social media pages.