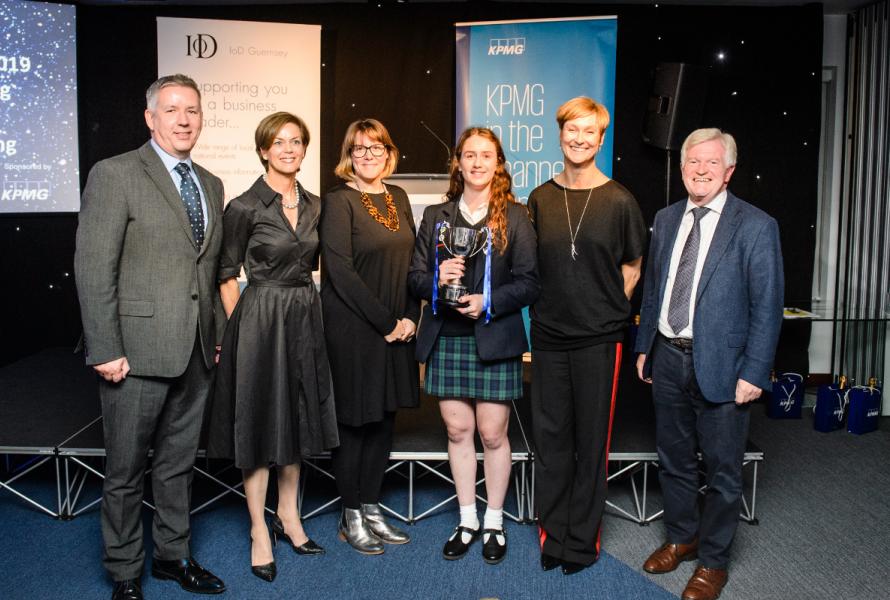 Emily Savident with the Martyn Mann Trophy together with the representatives of the judges and sponsors
Emily Savident, a Ladies' College student, received the highest accolade at this year's Institute of Directors Management Shadowing scheme.
Ten students were shortlisted to present to judges and an audience of business leaders, pupils, parents and teachers. They demonstrated what they had learnt about management from their placements, talking about the responsibilities, styles and actions of managers from a wide variety of organisations. 
This year's winner Emily Savident had shadowed Darryl Corbin from the States of Guernsey Catering, Housekeeping & Laundry Department and judges felt she demonstrated a strong understanding of management concepts and was able to show effective management techniques in action through examples of the work the shadowed manager carried out. 
Emily's presentation and public speaking skills were also praised. 
Highly Commended: Sophie de la Mare, Ladies' College – shadowed Steve Stormonth, KPMG Channel Islands Limited
Highly Commended: Caitlin Bain, Grammar School – shadowed Sharon Coburn, Praxis IFM
Highly Commended: Hannah Turian, Grammar School – shadowed Samantha Duncan, States Psychology Department
Highly Commended: Sophie Brown, Ladies' College – shadowed Brooke Kenyon, Orchard PR
Merit: Issac Powers, Elizabeth College – shadowed Elaine Gray, Carey Olsen
Merit: Lizzie Kennedy, Ladies' College – shadowed Paul Garrard, Kleinwort Hambros
Merit: Jenny Thomas, Ladies' College – shadowed Dan Bisson, NED Group
Distinction: Alex Varley, Elizabeth College – shadowed Richard Field, Appleby
Distinction: Jenny Hutchins, Grammar School – shadowed Olly Duquemin, Resolution IT
Distinction & Overall Winner: Emily Savident, Ladies' College – shadowed Darryl Corbin, States of Guernsey Catering, Housekeeping & Laundry Department. 
The programme, which has been running in Guernsey for more than 20 years, is currently supported by KPMG and provides sixth-form students with the opportunity to gain key managerial skills and business insight by shadowing managers in several sectors. 
Senior business people across the island share their time and experience with students who spend two days with their allocated manager, observing their management style, identifying critical leadership skills and discussing career paths and opportunities. 
The scheme is designed to be a two-way process; students are encouraged to ask questions about the manager's leadership styles and views on management, and it is acknowledged that feedback is essential for both students and employers to benefit fully. 
Linda Johnson, who leads KPMG's Channel Islands' advisory practice and who helped to organise and judge the awards, said: "The standard of presentations was incredibly high this year, the students did a fantastic job of sharing their experiences with the audience and they should all be pleased with their performances. 
"Emily had the edge with her presentation, giving some excellent examples of the good management practices she observed during her placement." 
Rob Jones, Group Head of Client Services at Aztec Group and IoDManagement Scheme organiser, hosted the evening which was organised by KPMG. He said: "Every year we are impressed with the students who present and also the feedback we receive from the managers involved. 
"We'd like to thank all the organisations and managers who gave their time to the scheme this year and urge anyone who would like to take part in 2020 to get in touch. The feedback that managers receive from the students is very insightful and this scheme is a fantastic way for businesses to support our local students in their development."