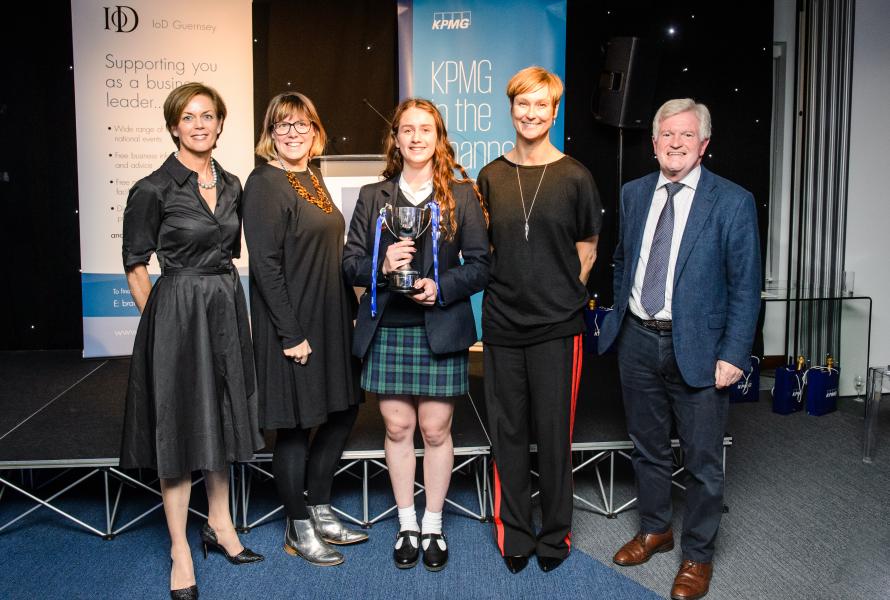 The Guernsey Institute of Directors (IoD) has relaunched its Management Shadowing Scheme with a new focus on leadership. 
The new Leadership Shadowing Scheme is open to all lower sixth-form students and applications must be submitted by 6th March 2020 for this summer's placements.
The scheme, sponsored by KPMG, provides a unique opportunity for students to learn about leadership through an onsite placement, observing first hand how leaders motivate, advise and support the people they work with.
Those who have been selected to take part will shadow a leader over two or three days to establish a 'one-to-one' relationship. As well as observing the leader in a variety of situations, students are encouraged to ask questions about the approach to, and style of, leadership.
Leadership shadowing is different to work experience; this programme is focused on observation. Students present their learnings and insights in a four-minute presentation to a panel of judges, with the top 10 students re-performing their presentations at a high-profile finals evening at the offices of KPMG, with the overall winner being awarded the Martyn Mann trophy.
Through the scheme, students will learn from a variety of Guernsey's top leaders, build their network, enrich their CV, enhance their presentation and interview skills and gain confidence in a workplace environment.
The scheme is supported by Source Recruitment who are managing the application process and will carefully match students to leaders. Students will also benefit from presentation skills training which is provided by Orchard PR.
The IoD scheme has been running in Guernsey for over 20 years and has received huge support from the island's business community, who provide access to their senior personnel for the island's students to shadow. 
Rob Jones, who leads the programme says: "Having been involved in the Shadowing Scheme for the last five years, it felt the right time to shift the focus to leadership. Every day we see examples of both good and poor leadership in all walks of life and, in a time where there is so much change taking place, our young islanders should benefit enormously seeing first-hand some of the challenges our local leaders face."
KPMG Partner, Linda Johnson adds: "We are immensely proud of KPMG's long-standing partnership with the IoD Leadership Shadowing Scheme, which is a great example of collaboration between business and the island's schools. 
"It is impressive to see the level of access all of the participating businesses give to students and the opportunities to learn about leadership and management. The experience gives students a unique opportunity to learn valuable skills and set themselves apart from the crowd, and without a doubt will be beneficial to their future careers."
You can find out more about the Leadership Shadowing Scheme and apply online here.