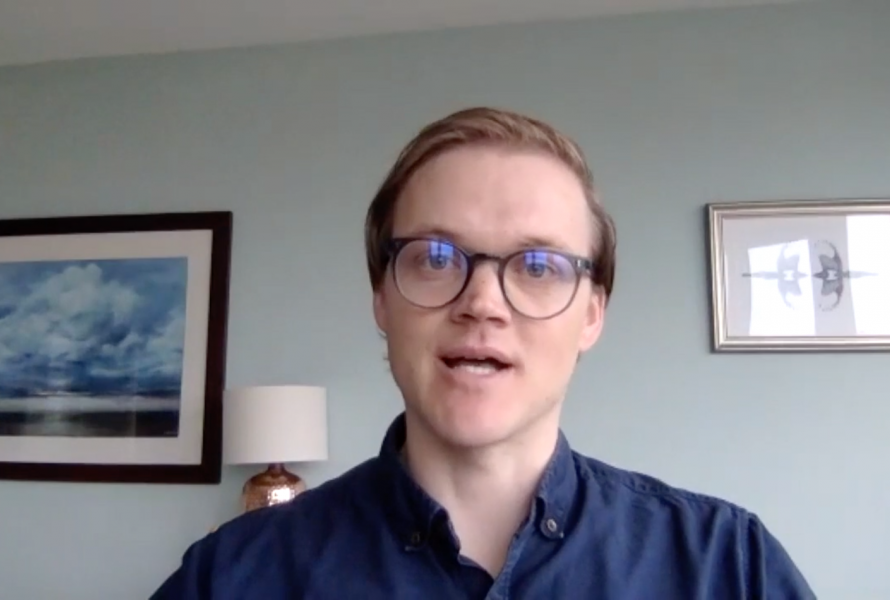 Attendees at our Mid-Term Debate heard from Jonathan Knight, the Managing Director of Board Intelligence.
Board Intelligence are market leaders in Board Reporting & Governance, and have developed a reputation as leaders in their field - helping companies (including a number of FTSE-100 listed Boards) focus on what matters most.
Their reporting and advice stimulates the forward-looking conversations they believe every board should be having, using good governance as a powerful driver of performance.
Jonathan draws on their experience to discuss how the best Boards have responded to the pandemic and, in particular, how they've been able to make high quality decisions in a complex, fast-changing environment. He also discusses the changes in leadership style that have taken place to enable companies to successfully navigate the unique challenges posed by the pandemic. 
How have the best Boards responded to the pandemic in 2020/2021?
From conversations with our clients, and the original research we've done this year, we found that the best Boards have not just led their organisations through the crisis (and guided them through the crisis), they've also done three things on top of that: a lot of the best Boards have 1) fundamentally changed how they operate as Boards, 2) they've redefined their role and 3) looked at how they add value to the organisation. That has enabled many of these Boards to start to look further ahead, outside of the crisis, and to start doing that from very early on. In terms of how Boards have changed the way they operate, 69% of Boards tell us that they've changed their priorities during the crisis, and the ones that were able to change those priorities much earlier were also the ones that adapted most quickly to remote working. 
So then the next thing - the operating model - is driven partly by the fact that people weren't traveling anymore, partly by the fact that a lot of us had family and children at home in a way we hadn't before, and partly by the fact that the topics were coming thick and fast. We saw a lot of much shorter, sharper Board meetings. So pre-COVID, a lot of Boards would follow the old model of getting everybody together for a day and then try to do everything on that day. But post-COVID the topics quite often got separated into much shorter, sharper meetings. And, actually, that was perhaps one of the biggest positives about the way that Boards changed during the crisis. What we found, pre crisis, was some of the best Boards were doing this anyway - so they'd separate the supervisory conversations from the steering conversations, because those need two completely different mindsets, two completely different ways of preparing; a different dynamic in the meeting. So, that meant that a lot of Boards firstly could be better prepared for some of their key conversations - and do them with a clearer set of goals and objectives for that particular meeting.  
Will these changes endure post-pandemic?
So, looking forward, then, will these changes last? Now, our hope is that yes, they will, and specifically what we hope will last is that Boards will be able to maintain these shorter, sharper meetings. Perhaps more frequently, perhaps spaced out more appropriately – and, in doing that, they can be more inclusive, so Boards are actually able to reach people (and have people join those meetings) who would not have been able to before - from different backgrounds, different family situations. Also, when you look at the actual organisation and the meeting itself, we hope to see that split between the supervisory meetings - where you're really looking at performance and you're trying to understand what happened - and the steeringmeetings, where actually you might be having a more in-depth discussion on strategy. We'll see that split maintained. And one of the ways that it's probably going to be easiest to sustain it is, if you think about those strategy meetings, they are something that is perhaps easier to do face to face, they're the kind of thing where the human dynamic - and really being able to connect with the people around you - is (perhaps) a little bit more important. Of course, it can be done remotely - but that face to face interaction is really important. Whereas, the Supervisory meetings are about performance, you know, those ones where it matters a lot less whether you're in the room together and, in fact, it can be helpful to not be in the room together because: you've got more access to your notes, you can have your screen up, you can have your own set up, and you can really see what's going on. So, hopefully, that split will be maintained. 
Something else really positive has happened, which we also hope to see sustained, which is that a lot of Boards have got into the habit of asking a lot of the questions about performance before the meeting. So, these are the clarification questions. These are the questions where the report writer can perhaps go and get a bit more detail for you. And these are the kind of points that maybe used to take up the first half of the meeting. If you can get those all out of the way, and dealt with, before the meeting, then you can focus just on the things that you really need to understand or that really needs to change during the meeting. And that's allowed those meetings themselves to be much shorter. So, that again is something that the best Boards were doing pre-COVID. More Boards are doing it now because of COVID and, if we can take anything positive from this, it will be that those kinds of changes are sustained in future meetings.
What factors have Boards had to take into account to make high quality decisions during the pandemic? 
There are obviously a lots of different things going on. If I just draw out two, though, these are not new challenges - they're just perhaps challenges that have become more pronounced during the COVID crisis. So, the first of those is information. We found that for Chairs, the biggest barrier to good decision making was getting good information to the Board. Recent research with ICSA of over 2,000 CoSecs showed that 64% of those CoSecs rated the Board materials as a weak or poor. So, on the other side of the table, a PwC survey found that only 37% of Execs felt that their Board were able to come to meetings well prepared. So, that's almost two thirds of Boards, whichever way you look at it, that perhaps don't have access to the information they need. So, in a crisis, you don't have time for bad information. A lot of these organisations that presumably had bad information weren't able to make fast decisions, and are falling by the wayside or really suffering now. But in a crisis, I guess, one of the benefits is that the right questions come into sharp focus. So, when the questions are really clear, it's much easier to give Execs and report writers a brief on what information you need. And what we found is that Board papers overall become much shorter and much sharper. One Chair we recently spoke to, told us that their Board Papers have gone from an average of 20 pages per item to about five pages per item - with no discernible drop in quality or scope. 
One of the other main challenges, though, has been more personal. So, the personal dynamic, both in the meeting itself - with everybody working remotely and unable to see and interact in the same way - and also with those things going on around the meeting: a lot of people coping with tragedy or anxiety, or just  a change of circumstances. So, we saw that with the Handforth Parish council (that everyone likes to laugh about), but I think the lesson from that is that it's very difficult to defuse tension in a room once things start to go the wrong way, remotely. It's hard enough in a normal meeting - but it's even more difficult remotely. And we also saw that everything's on the record, so that went viral. Also, Bill Michael (CEO of KPMG) resigned after his comments to staff went viral. He said some things that were not well received and there's no getting away from that. So, we've found the best Chairs have been able to keep meetings focused and productive and being able to keep tensions from simmering over. But that has required a lot more work - even more work outside of the meeting than usual. So, it's about: being proactive about finding out what's going on with people, influencing in new ways, arranging extra calls to answer questions to keep people informed, to agree what the key items for the agenda are going to be. 
 How have leadership styles had to evolve during the pandemic?
I guess leadership style is a big factor as well. I mean, it always has been, and we've seen recently, the trend has been towards leaders with a greater EQ, who are more willing to engage with those around them, (rather than kind of shooting from the hip) and being a leader up front. But I think, if anything, this COVID crisis has accelerated that trend. You see, everybody has perhaps a shorter fuse - or has more going on in their life - and is a little bit less able to (or willing to) deal with the kind of things that come when someone is pushing you in an unhealthy way or any of the other unhealthy words : bullying, or anything that remotely feels like that. And any leader who has been able to lead and inspire - but also be really supportive and foster a culture where the people around them feel supported -those leaders have done a lot better in this crisis, and I think will continue to do so after the crisis. I'm speaking partly from our clients perspective, but also from what we've actually experienced at Board Intelligence, and the people who have had the toughest time, but who have then been supported, are the ones who are now most enthused and most enthusiastic about the leadership, about the company, and about those around them.  
How have leaders been able to identify the key priorities, given all the extra noise and uncertainty created by the pandemic?
Identifying the right priorities has always been a challenge. It is something that directors have said to us, since the last decade. That challenge seems to come really from trying to balance what the top priorities are, what the individual directors and the Board would like to be working on, which are often the big strategy items - the really important 'what comes next?' items- and balancing that with the growing regulatory demand - the kind of administrative items that come up. Performance reviews as well. And, also this kind of inertia that does seem to develop around a lot of Boards where the agenda sort of seems to grow and grow and grow, and isn't very often pruned. So, a lot of the time, what you're talking about is based largely on what you talked about last time - plus a little bit. Now, again, if we're looking for positives in the crisis, (and there's the fact that nothing really focuses the mind like a crisis) so, for a short period, most organisations objectives became much tighter. It was a much smaller set of things that we that we were able to care about. Was it the shift to remote working? Was it how to survive? For some of the forward-looking organisations, it was how to make the most of situation. Whatever it was, it was a much shorter set of things., and a smaller set of things. So, it's like a detox in some ways. A lot of those things crowding out the agenda were thrown out. And as the most proactive company secretaries and Chairmen have been able to really carefully sift what comes back in again. We've seen some of the best Chair and Company Secretary relationships actually get even closer, because they had to spend more time together, working out in the very early days what could be axed - or postponed. And then now what can, and should, come back in. So that rebalancing exercise is seeing some of the best Boards spend a little bit less time on compliance topics, because they've thought more carefully about what actually needs to go to the Board. And then, from that how to spend time on the bigger, existential questions that are coming up. 
And on the flip side of that, there have been some topics that have actually come to the Board more, and we really hope to see come in even more. To bring two examples : People and Community. Recent research we did shows that fewer than 20% of Boards look at Community more than once a year, and it's a similar number for People, which is quite shocking. So, a lot of Boards look at People - but it's generally around annually. And if you think about the way this crisis has affected us, it has really been about People and Community. It's not like previous crises or the financial crisis, which are very much business and money crises - and a lot of people were able to just shrug it off. This has affected everybody. So, 'People' has come up as a topic a lot more because of the shift to remote working, the way that people have been affected, and what support people need. Who do you furlough and who don't you furlough? How do you sustain morale in a workforce that hasn't got any of the usual tools or social interactions? And I think that's been, again, another positive out of the crisis, because Boards have realised that if you don't focus on your people, then you can have some really big problems - and when you do focus on your people, the benefits are huge. Now, you saw before the COVID crisis this was already a trend : ESG is a much bigger thing now than it was five or 10 years ago. You see investors choosing not to invest in companies : most recently Deliveroo, with Aviva choosing not to invest because they didn't like the way that the people were treated at Deliveroo, but also the impact on the wider community. This was already a trend before the crisis, but the crisis has put it into sharper focus. 
 Has the pandemic led to a change in what is reported in Board packs?
One of the things related to this sharper focus and to the information point we talked about earlier, is data and the more numerical side of the information. So, we've seen : shorter, sharper meetings,  we've seen meetings that have focused more on what matters, we've seen shorter papers, and we've also seen topics that wouldn't traditionally have quite as much Board time, getting more time.  But has this translated through to the data that's included in the Board packs? I think the answer to that is that it's a little bit slower to happen, but it's something that we hope a lot of organisations will focus on now - if they haven't already.  Which is to say, if you know now what the questions that matter to you are, in a way that you perhaps didn't before, one of the best things you can do is to find a way to summarise that data on a page. One of the things we do at Board Intelligence is we focus on the company dashboard. So, 'what is the view from the bridge'? What are the key questions and the data that supports the answers to the questions that the Board can look at – at a glance - and, therefore, see where to spend more of their time. So, it's not every metric - it's just picking out the ones that really matter. And it's making sure the scope of that is broad enough, so it's not just your backward-looking financial metrics : it's lead indicators about your future performance. It's indicators about how engaged your people are. It's any measures you can have about your reputation and the impact you're having on the environment around you - the kind of things that you (as a Board member) would really want to know if it's not going as well as you thought. And to be able to see that in a single place. So, that's actually still quite challenging to achieve - and it requires a certain degree of critical thinking. So, we hope to see organisations set a time aside to do that critical thinking.  
Can you expand on what the best Boards include and, more importantly, don't include in their dashboards? 
There are lots of things to get right, but if we just focus on two of them : one is identifying what not to put in the main dashboard and where that should go. And, for most organisations, it is really about financial data. So, you can cut your financial performance any which way - you can look at growth, you can look at lots and lots of indicators, but that will take up many, many pages, and inevitably that will mean that that is the thing that gets focused on most. So, with this, it's critical to work out what is good financial performance for you, what is a healthy financial position for you, what matters at your organisation. And then to make those the few things that really get the headlines for Finance. And to be really strict to limit yourself to those things. Now, the rest of the information is useful – and it can go into an appendix. Your more financially-minded Board members will dive into it and they will point out where they think there are problems. It's almost one where you don't need to emphasise it. But the trick is to is to get the indicators that do matter. Partly to save space, partly to create space for other important topics, but also because, by telling the whole organisation the metrics that matter most, you help everybody from the organisation focus on driving those metrics (and not whatever is on page seven or page 10 or page 15 in the Appendix).
And the other aspect is making sure that you're covering all the topics that you should be covering. I think everybody covers Finance but, as we discussed earlier, perhaps not enough people cover People, Community and the Environment. Now, some of those things are a little bit harder to measure, but one thing we've been talking about for years that's not too hard to measure -  it just needs some thought and some process and some effort - is the engagement level of your people. So, we were shocked 10 years ago to find how few Board packs included frequent, regular information (i.e. more than annual) about how engaged people are, and where perhaps the issues with engagement are. So this is a gap we've been trying to fill for years - and it's one that we've seen actually through the pandemic - more regular surveys and asking the right questions of your people, that lets you understand, I guess, what problems might be coming. And it's not just about trying to make everybody happy - although obviously a happier, motivated workforce is better. But it's also about asking the questions, and building a relationship with the whole community of people so that they feel comfortable raising topics that they are concerned about. Some of these are welfare topics and things that you need to know that you need to fix, but more of them are actually existential or strategic topics. So, you can see, perhaps where your customer service isn't great, and you'll see it, by asking your customers - but you'll also see it by asking your people. Because they know - and they will highlight issues to you that they are concerned about and things you need to fix that have nothing to do with staff welfare, but everything to do with your business or organisation thriving.
What positive changes will the best Boards continue to practice going forwards?
In terms of positive change, one CEO of a UK pension trust told us just a few weeks ago, he firmly believes there won't be a return to the old ways of doing things - and we hope he's right. So, those changes I talked about earlier with the changes to the Board operating model and the changes to how the Board focuses and the broadening of horizons for what topics matter - those are the things we really like to see sustained What we're hoping is that Boards will be able to make use of a hybrid model. So many organisations will have a hybrid models for their workforce - kind of part remote, part in the office - but for Boards, we think it can work particularly well and has quite a few benefits. So, what we're seeing a lot of Boards decide to do is probably going to go with face to face meetings for big strategic conversations for those steering conversations where you're in a more exploratory mindset, and then stick to remote conversations for the performance and regulatory reviews, as much of the admin tasks that can be done remotely. Because it just reduces time but, it also lets you sort of separate the two things in your mind, like : 'what's this meeting for?'. And the other benefit to doing that is the more remote workers can be supported. 
So, you can have huge benefits for one of the other major topics which we haven't touched on yet about Diversity and Inclusion. So, I was actually chatting pre-pandemic to a lady who used to be on the Board of Microsoft. She was saying that she wants and believes that the Board meeting at that time (so this is maybe a bit more visionary), shouldn't be a long affair - and they shouldn't require you to fly in from all over the world to one place, because that leaves out people with young families, it leaves out experts who will live in countries that are not geographically close to yours that you might otherwise want to have on your Board. And it's also extremely expensive and time-consuming. So, the less we can rely on face to face, which is obviously still vitally important, and always will be, but the less we can rely on that, the more it opens up these possibilities of having people on the Board who might otherwise have to turn down a role or you might otherwise not have thought of approaching. Another benefit of that, of course, is the sustainability angle. If you think about the impact of a single Board meeting - the people flying in potentially from all over the world. Up until recently as well, printing paper - we worked out how many trees one Board was using a year and it was quite staggering. So, if you look at broader global trends, hopefully Boards will no longer be contributing as much. And we can be more sustainable because we're travelling less to get to those meetings. 
What practices will Boards reintroduce (when it becomes possible again) in terms of what are the biggest losses that they've seen from remote working and this period of lockdown?
It's fairly clear that there are two things that most of the Directors we speak to really want, as soon as possible and that is : face to face interaction with their colleagues and their peers, and with the Board again. I mean, no one's calling for every meeting to be that way, but it's been a long time since we've seen each other, and you do still get a lot from those face to face interactions. So that's one where I think there will be face to face meetings very quickly. The other is there is still a lot of value in the 'getting out on the floor', whether it's a factory floor or an office floor, or even a social event that the company is hosting and just hearing the casual things and the casual interactions that go on there.  I think people call it 'taking the temperature' of an organisation. So I think those two things, directors are very keen to get back to. But hopefully, some of the other benefits of remote working will be sustained.
What different skills has this pandemic required leaders to draw on - and are there any core competencies that are potentially missing from the IoD director competency framework?
So, regarding what competencies have come to the fore : the IoD's competency framework is all-encompassing and is very, very good. We've seen some of the things in there become more important, relatively speaking, than they would have been, or perhaps recognised as being more important is a better way of putting it. And so those are really around the 'personal' and 'soft' skills, because it becomes so much harder to have interactions, and to do things like influencing - which is a key one. So, you have to find new ways of influencing people you know. It maybe takes more small interactions, it's just a different way of doing things. Another because of the pressure that people have been under : the anxiety that has been there, and some of the specific personal tragedies, is this point about 'awareness of self and others'. So, as I said earlier, the leaders and Board members who have a higher EQ and are more able to support those around them, are getting better results with those people around them. So, I think that those are the areas that are really big and it has accelerated how important those areas seem to be. 
Some of the other ones that are just as important as ever, but they have changed a bit, is these points about decision-making and the use of data and analytics because these trends are global (and we there even before the pandemic). We have a lot more data than we used to have - things move a lot quicker. But, in the early days of the pandemic in particular, things moved so quickly, and there wasn't time to do a lengthy project to get data together, you needed to have that data in place there as fast as possible. But also be able to analyse and ask the right questions of that data, and then get the next iteration of answers very quickly. So, I think, I think Board members who were able to interrogate the information very, very well and be very analytical about it, but also who could then push the people creating the data to do it better, to do it faster, to put things in place so the next time it could be done more quickly - those are the organisations that have done really well. 
I guess that comes on to the third point which perhaps isn't mentioned explicitly in the competency framework, but you've seen it's hugely important now, is 'agility'. This is combining flexibility of personal circumstances, and adaptability of personal circumstance with the willingness and the adaptability to turn what you're thinking about to almost any topic. So, directors who are able to not just do what they've done well in the past, but also to identify what needs to be done now - and change and adapt to it. So this isn't necessarily an individual skill, but it's a group skill, which is to identify where the gaps are, and to be able to bring people in, without delay, either as Board members or as guest advisers - who can really help you fill those gaps quickly. And so, having that network of people you know, knowing who's strong (and at what) within your organisation, being aware of the strengths of those around you, and the gaps, has been even more important.