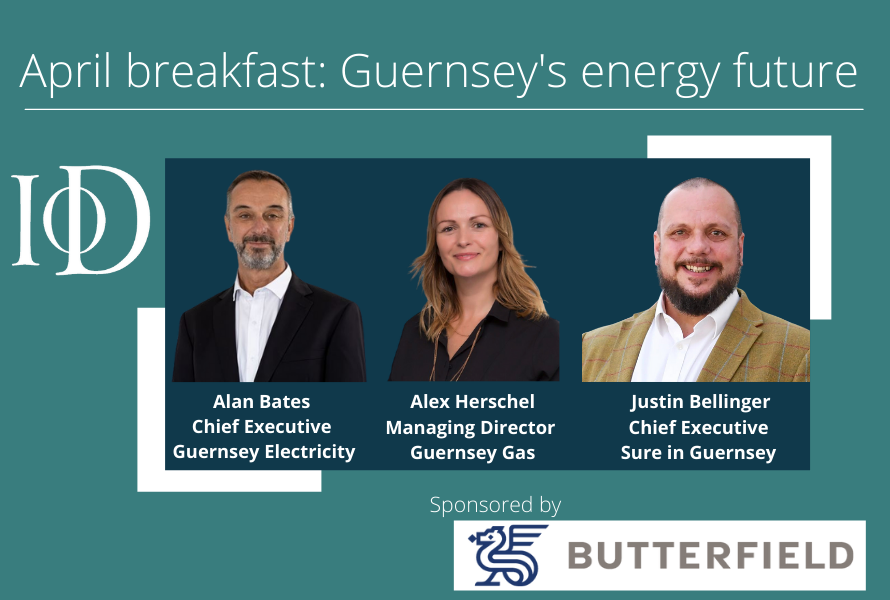 The IoD's April breakfast, sponsored by Butterfield, will explore Guernsey's energy sector and its resilience to responding to global changes – particularly in the context of current geopolitical instability.
The event will host a panel of business leaders in the local energy industry, including Alex Herschel, Managing Director at Guernsey Gas, Alan Bates, Chief Executive at Guernsey Electricity and Justin Bellinger, Chief Executive at Sure in Guernsey. The panel moderator will be Wendy Dorey, IoD Guernsey's Chair.
The event will explore how the current geopolitical landscape is affecting decision-making in the energy sector. The event will also analyse the impact decarbonisation is having on the States of Guernsey's Energy Policy, which aims to adopt net-zero emissions by 2050. To reach this goal, the industry needs to undergo a similar transformation that the telecoms sector experienced 20 years ago. The panel will identify and discuss the learnings from this transformation.
Wendy Dorey, Chair of the IoD in Guernsey, said: 'We look forward to welcoming a number of Guernsey's energy sector leaders to our April breakfast. The topical event comes as fossil fuel prices reach new highs, increasing the need for digital transformation and investment in renewable energy sources.'
'The States of Guernsey Energy Policy has set a target of net-zero emissions by 2050 and to adopt an interim target of reducing emissions by 57% on 1990 levels by 2030. With less than seven years until this first milestone, we will be discussing how the Bailiwick can remain resilient and on track during these unsettling times and what, if any, changes need to be made to reach this goal.'
The April breakfast event will take place at the Regency Room at the OGH at 07:45 - 09:00 on Thursday, 28 April. Tickets can be purchased here. 
The IoD committee respectfully requests that all attendees take an LFT before attending. A certificate for IoD members will be issued after the event.