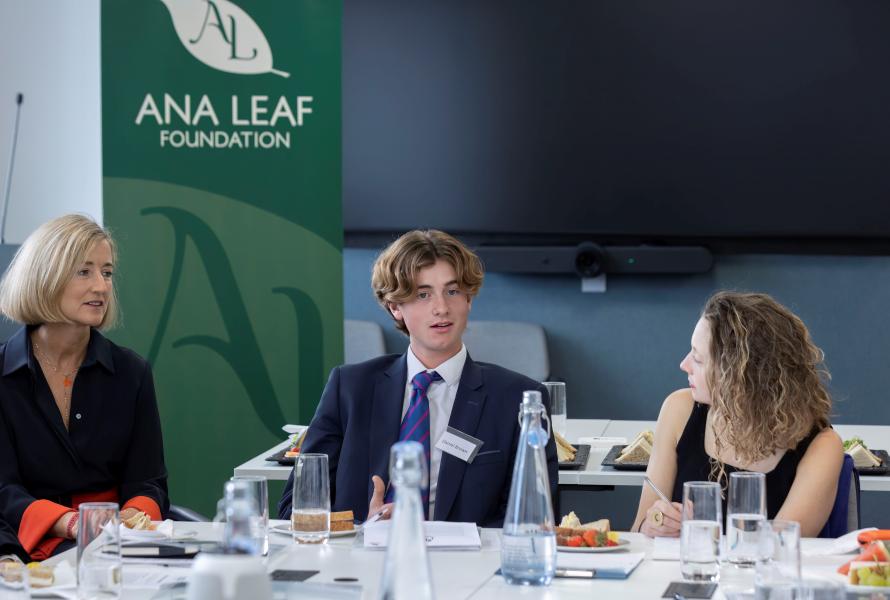 Ten local students were invited to attend the Guernsey Institute of Directors' (IoD) Annual Convention, plus an exclusive lunch with the Convention panellists and also the IoD Future Leaders Summit as part of IoD Guernsey's 'Leaders of Tomorrow' scheme.
Known previously as the 'Directors of Tomorrow', this initiative, which is sponsored by the Ana Leaf Foundation, has been rebranded as 'Leaders of Tomorrow' to inspire young people to develop the skills they need to become the island's future leaders.
The exclusive lunch was hosted at Deloitte on 6 October, where the ten students, representing Guernsey's sixth-form cohorts, met Boardroom 2030 members, Charlotte Sewell and Matt Hocking, plus Akash Thaker, Youth Board Member for the Good Energy Group PLC. Boardroom 2030 is a campaign created by B Labs UK, which invites businesses to explore and model what a 2030 future might look like for them. They discussed some of the world's most pressing issues including climate change and Akash encouraged the students to become leaders, no matter their age, sharing his own experiences as a teenager and youth Board adviser.
The IoD Convention took place that evening and focused on how businesses can navigate the 'new order' of geopolitical risk, and what changes are needed at board level to ensure they are 'fit for the future'. Convention attendees heard from Dr Wolfang Piccoli, Co-President and Senior Political Risk Advisor at Teneo, on the many geopolitical issues that businesses are currently facing. The evening also featured an interactive panel session when the students asked questions on how to create lasting change and what skills are required by the Boardroom of the future.
After the Convention, Mayna Jackson-Gill, student at Grammar Sixth Form Centre, said: "I think it's been really relevant, everything that's been spoken about is in the news. Everyone should be educated on it, and these are issues that we are all going to be faced with in the future."
The IoD's Future Leaders Summit, which was headline sponsored by the Ana Leaf Foundation, took place on 24 November at Mourant. The students gained a deeper understanding of leading local businesses from multiple sectors, discovering what opportunities are available for school leavers on the island. Laurence Kemball-Cook, the keynote speaker, became an award-winning founder and CEO of Pavegen Systems when he was just 28 years old. He described how he developed the idea for his innovative clean technology company whilst at university and how it evolved to create lasting change around the world, with over 200 installations in 36 countries across the globe.
As well as the opportunity to hear and learn from top business leaders in Guernsey, the ten Leaders of Tomorrow students will also receive a year's IoD Student Membership.
Hayley de Putron, a Trustee of the Ana Leaf Foundation, said: "We were pleased to have been able to support the Leaders of Tomorrow programme again and to hear that the students found the experience valuable. We want to provide our island's young people with opportunities that will help them shine throughout their lives and enable them to be the best they can be."
Wendy Dorey, Chair of the IoD Guernsey Branch, said: "We are delighted to have such a strong cohort of 'Leaders of Tomorrow' students. They are bright, articulate and engaged – and we look forward to helping them develop the skills and connections they need to become leaders in the future." 
The Leaders of Tomorrow initiative is sponsored by the Ana Leaf Foundation and is part of the IoD's Future Leaders programme alongside Leadership Shadowing and the Future Leaders Summit.