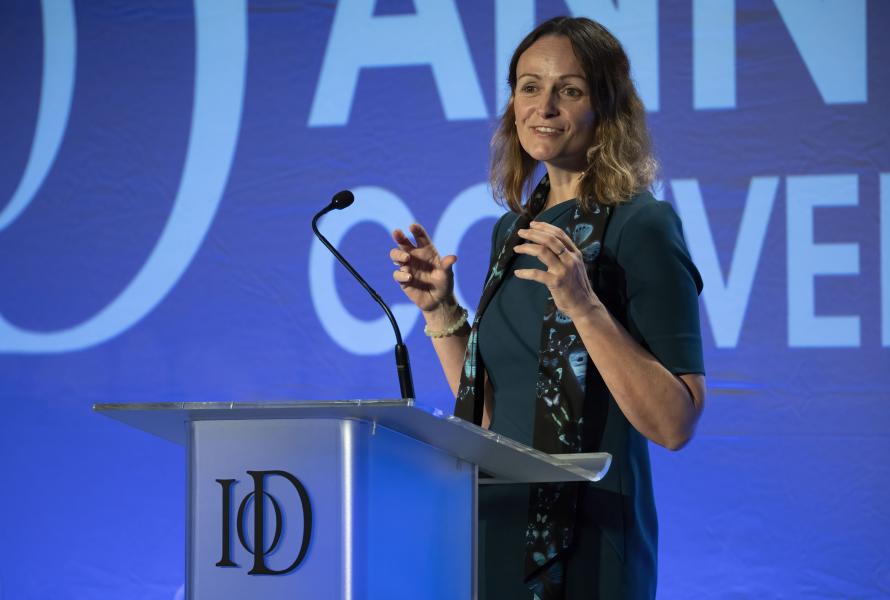 A country's exports form part of Simon Anholt's Nation Brand Hexagon. At the IoD Guernsey Annual Convention, Alex Herschal spoke about how Guernsey's exports can make a big impact on the global issue of sustainability.
The Nation Brand model identifies six key factors that contribute collectively to how people perceive the country's brand - people, tourism, exports, governance, investment and heritage.
Through her discussion on Guernsey's opportunity to leverage exports as part of its Nation Brand, Alex identified how the Bailiwick already boasts a wealth of nature capital that already is or has the potential to be exported and put Guernsey's green credentials on the map.
Alex was supported by an interview with Bob Stevens, Chairman of Perpetuus Tidal Energy, who are undertaking a significant tidal development in the Isle of Wight.
The key discussion points from this segment include:
The more positive the national brand, the more successful its exported services and products will be on the global stage. This in turn increase the nation's reputation
Creating a circular economy where we can showcase and maximise our natural capital to an external audience is crucial to developing our global brand and improving our green credentials.
We have several living case studies of how our sustainable agriculture and nature capital is benefiting the Bailiwick's brand. Guernsey's cows are recognised globally for producing some of the best milk in the world and that it is suggested to have more health benefits than milk produced by other breeds. The difference is down to the cows' genetics and the sustainable breeding process.
Similarly, Guernsey's oysters are known for their quality across the globe and farming them benefits the local environment - Each of the two million baby oysters on Guernsey's farms filters 55 gallons of sea water every day, reducing pollution and benefiting other species.
To host sustainable farming practices, we need to ensure sufficient agricultural land and encourage a healthy biodiversity and pollinators.
Can Guernsey cash in on biodiversity banking? The UK has introduced a scheme where agriculture can benefit from dedicating land to biodiversity enhancement, now known as biodiversity banking. We have approximately nine million tonnes of carbon stored in our natural habitats around Guernsey – such as our seagrass beds – it is easy to see that there is a real economic value in just protecting what we have.
Exports isn't just limited to agriculture. Guernsey's unique geographical position could also allow us to benefit from sustainable energy production. There's a lot that could be learnt from Perpetuus Tidal Energy in the Isle of Wight and the European Marine Energy Centre in Orkney.
Could Guernsey utilise its world-leading tidal ranges or it's 1980s reputation as the sunniest place in the British Isles to generate energy for our own use and export to surrounding jurisdictions?
Transitioning to facilitate exporting power does incur an initial investment fee but the results should lead to increased revenue, jobs and prosperity for Guernsey's green future.
Guernsey has a winning combination of natural capital that can turn our narrative from 'tax haven' to 'green haven'.
Each section lead requested three asks from the audience as individuals, business leaders and States of Guernsey members. Alex asked attendees:
Individually – Please support local suppliers of sustainable goods and services. This reduces carbon footprint, creates a demand for local sustainable products, boosts start-ups, increases food and goods security, puts money back into our economy, drives sustainable cultural change.
 Business Leaders – Review what investment and procurement weighting you apply to local and environmental sustainability credentials of suppliers along your value chain. And in terms of investment, can we think big if we direct and pool our investment strength and focus it internally to help shape our 'green island' brand?
Government – Can we put in place the fiscal and policy drivers needed to extend beyond standard economic enablers and help shift that dial from a linear economic model to circular?
Alex closed her speech by urging the audience that we need 'a little less conversation, a little more action.' We encourage business leaders to share their own sustainable objectives on social media and include the #My3IoD to engage with other likeminded individuals.