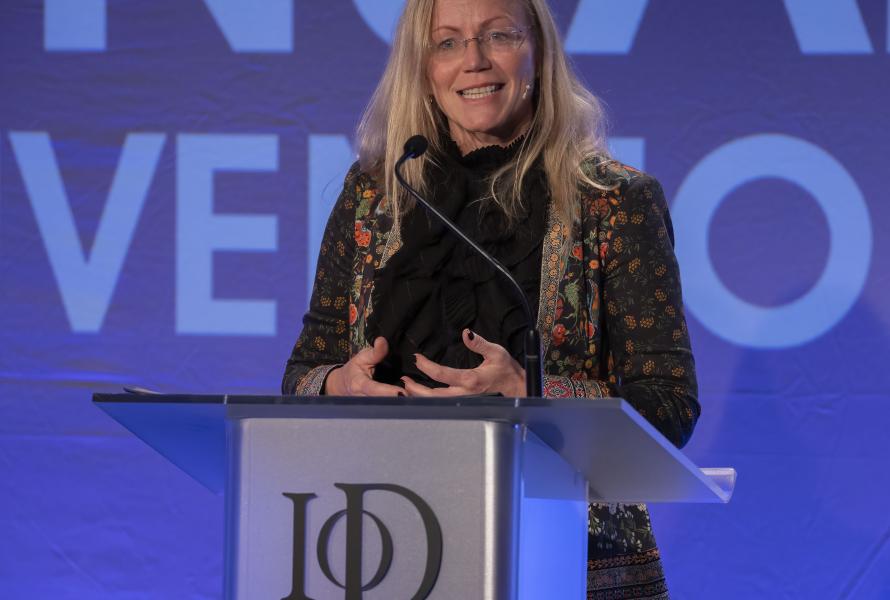 Simon Anholt's Nation Brand Index ranks a jurisdiction's attractiveness and success based on six key areas: people, tourism, exports, governance, investment and heritage. The IoD's recent Annual Convention took the Nation Brand model as the framework for this year's event and explored the theme of how Guernsey can make a big impact on the global issue of sustainability.  
Josephine Bush, Strategic Adviser for Green and Sustainable Finance at Guernsey Finance, identified how investment into green finance can positively impact Guernsey's brand.  
Josephine was supported by an interview with Jeremy Alun Jones, Chief Operating Officer at ADM Capital Europe, who launched the first fund under Guernsey's Green Fund regulation in 2017.  
The Guernsey Green Fund enhances investor access to the green investment space by providing a trusted and transparent product that contributes to the internationally agreed objectives of mitigating environmental damage and climate change.  
The key takeaways from Josephine's presentation include: 
Climate change is one of the biggest existential threats of our time and whilst our island's size is small, thanks to our financial services industry our impact on a global problem could be significant.  
Climate change also represents an opportunity. Guernsey's introduction of the first regulated green fund has made a big impact on the Bailiwick's reputation as a centre for green finance.  
The world is noticing the £4b of capital that Guernsey's green funds have funnelled into projects around the world. 
Guernsey could become a leader in reporting decision-useful data with ESG frameworks which ultimately helps to ensure capital is directed to the right places.  
Numerous meta studies evidence that ESG-compliant businesses will outperform the market if they embed good ESG disciplines. The embedding of ESG strategies then will attract capital. Professional service support to help businesses with the development of such strategies and reporting will deliver intangible value, financial returns and impact. 
Guernsey can lead the way in setting in place support mechanisms for the development of and marketing of new financial instruments, such as green and social bonds; it can support the delivery of finance globally through innovative structures. 
The Bailiwick could be a hub for solutions that evolve from the convergence of technology and sustainability. The opportunities that going green provide need support to grow and flourish. 
Reporting is critical, it needs to be accurate without becoming a burden. Frameworks and guidance are needed so data is recorded in a consistent and comparable way, allowing commercially useful decisions to be made.  
The threat of greenwashing is real for Guernsey. The island's standards, procedures and ideas over the next decade must be truly authentic and stand up to scrutiny. 
As 'green finance' becomes the norm, Guernsey needs to enact a constant state of innovation to maintain a competitive edge. Our rich legacy of expertise and agility means we can lead from the front.  
Josephine concluded by saying: 'The time is right for Guernsey to leverage its professional services expertise and drive hard into sustainable investable opportunities. Our future and the future of subsequent generations depend on it.' 
Each section lead requested three asks from the audience as individuals, business leaders and States of Guernsey members. Josephine's were:   
Think about how you will take the next step in developing an ESG strategy and approach to reporting. If you already have one, how can it be refined and communicated more effectively to investors to deliver value? 
All business models will have to adapt to the impacts of climate change, whether it is on your own operational footprint or the supply chain of which you are a part. Have you fully assessed the supply chain to identify the areas of vulnerability? Have you thought about how you will engage your counter parties to adopt the good ESG disciplines you will develop, or are already developing? 
What new areas of innovation can you identify within your or others' business models that require funding or insuring? Building the business case for investment and presenting its impacts will assist in the finance raise. Take a look at the increasing volume of new financial products and services being developed to assist you. 
We encourage business leaders to share their own sustainable objectives on social media and include the #My3IoD to engage with other likeminded individuals.