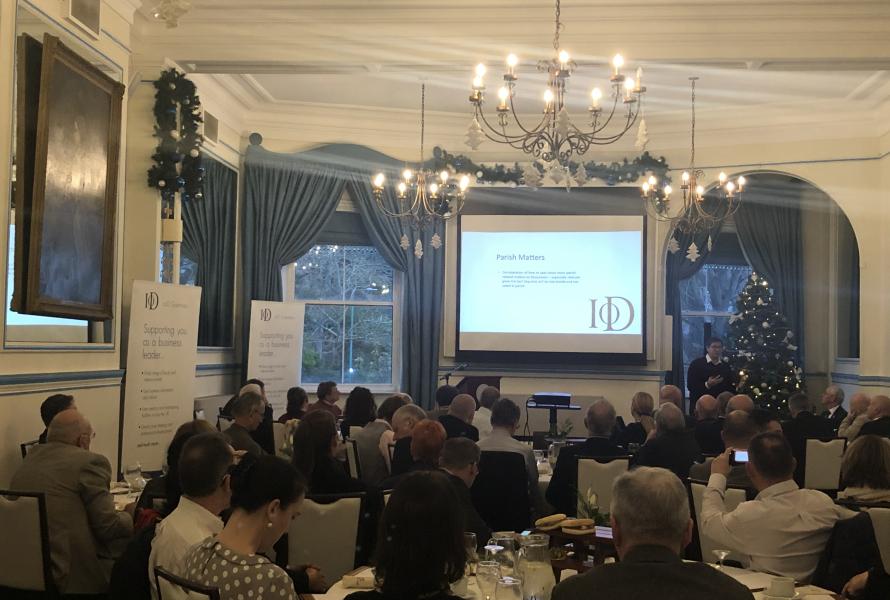 The IoD's December seminar, sponsored by Butterfield, focused on the machinery of government, looked at what good governance is and provided an update on plans for Guernsey's 2020 Election.
IoD Guernsey Chair John Clacy discussed a number of small changes Guernsey's States members need to make to enact positive change, based on feedback from IoD members and business leaders locally.   
You can read John's blog here. 
Ahead of next June's 2020 Election the IoD has launched a survey to gather feedback from members and business leaders on the island's most pertinent business issues.
The IoD wants to make sure that businesses' needs are part of the conversation as candidates assemble their manifestos, the electorate considers their options and the next States start the new term.
John Clacy said: "We urge everyone to take part in the survey, both IoD members and other business leaders; we hope that candidates will also engage with the survey results which will be released next year." 
David Mullins, the Lead Election Officer from the States of Guernsey, gave an update on the plans for Guernsey's first islandwide election.   
For the first time there will only be one electoral district from which to select 38 deputies islandwide.  There will be no overnight count and electronic counting machines are being considered. 
The key dates for the 2020 Election are:
Electoral Roll Registration - 2 December 2019 (opens)  - 30 April 2020 (closes)
Nominations - 12 May 2020 (opens) - 15 May 2020 (closes) 
Polling -            13 & 14 June (Beau Sejour advance polling) 
                          16 & 17 June (Beau Sejour and Parish polling) 
You can find out more about the 2020 Election and register on the electoral roll here.
Stretch Kontelj, IoD Guernsey Vice Chair, posed the question "What is good governance?"  He talked through the findings of the recent Staite Report <insert link to report> which reviewed governance in the States of Guernsey.
He said: "The answer to this question differs and depends on who you ask. When it's working and in place it's the invisible hand that helps guide the functioning of an organisation. When it's absent it becomes evident to see in the calamity and disharmony that bedevils an organisation.
The recent Staite Report associated with the review of the efficiency and effectiveness of the States' P & R Committee noted that governance is the critical success factor for all types of organisations, including government." 
You can complete the IoD survey here. 
The next IoD Breakfast sponsored by Butterfield will be in January next year.