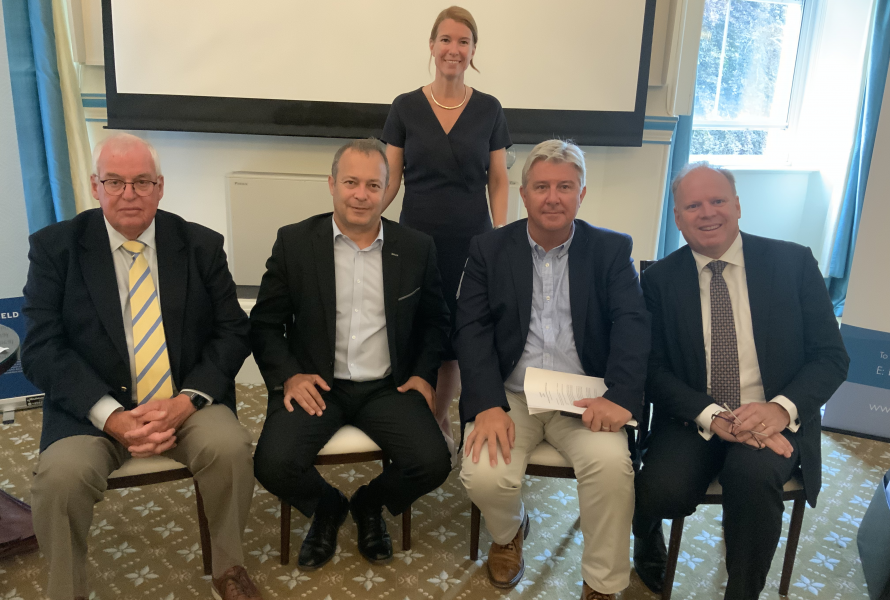 IoD Guernsey's July breakfast, sponsored by Butterfield, hosted a panel of local industry leaders to analyse Guernsey's air strategy, the island's air links and the importance of reliable and affordable travel connections.
The event, moderated by IoD Guernsey Chair, Wendy Dorey, welcomed Deputy Mark Helyar, Treasury lead for the Policy & Resources Committee at the States of Guernsey, Nico Bezuidenhout, Chief Executive Officer at Aurigny, Paul Hodgson, Chair of GIBA and Jerry Girard, a former pilot and independent aviation expert.  
An IoD member survey in April 2021 revealed that reliability, affordability and connectivity were the top three priorities for the island's business travellers post Covid-19.
Summary of the questions and panel responses: When asked about the Bailiwick's current air links and what stakeholders want from their operators, Paul noted that, from a business perspective, it's key to be able to make a day trip to London and have confidence in the timings and logistics, so, reliability must be at the top of the priority list. He also highlighted the potential benefits of a London City airport route, especially as this is a highly regarded airport for incoming business travellers. 
Mark agreed, noting that many organisations legally have to hold board meetings in Guernsey; therefore, reliability and timing options are key.
Jerry concluded that the services provided by the island's current operators have improved, but the island may have some issues in the medium-term as the capacity available from the UK becomes more of an issue.
Wendy moved on to discuss Guernsey's Air Policy Framework, asking if it is compatible with meeting the business community's needs and supporting the local economy's development over the coming years.
According to Mark, prior to the framework's introduction, Aurigny was the States of Guernsey's biggest creditor, and they have since used the framework to develop strategic objectives for the airline to meet. Nico was supportive of the framework but reminded the audience that Aurigny is only an enabler of the policy - and nothing more.
Discussing the island's air links strategy, Wendy asked 'does the strategy need to change to support Guernsey's economic development, and if so, what are the most important changes we need to make?'
Jerry discussed various points in relation to extending the runway; he said that there are a number of benefits to installing a longer runway and inviting larger operators to enter the market, and he made various comparisons with Jersey.
Mark agreed with Jerry's point but highlighted that, in addition to not being included in the current Air Policy Framework, it hasn't been included in the Government Work Plan. Whilst the plan does reference the work that the Committee for Economic Development is doing to update the Critical Economics Report, Mark was clear that a runway extension is unlikely to be one of the top priorities for the current States of Deliberation.  
Nico stated that he is not against extending the runway but stated that introducing low-cost carriers does not guarantee low-cost ticket prices for consumers. It may well also be necessary to pay a government subsidy to attract these airlines. Nico also commented on the importance of establishing what the question is, before identifying the answer as being a runway extension - as there may be a number of other avenues that should be explored.
That sentiment was echoed by Paul, who stated that solutions to the housing, construction and recruitment issues continue to be the priority for the States of Guernsey from a business perspective.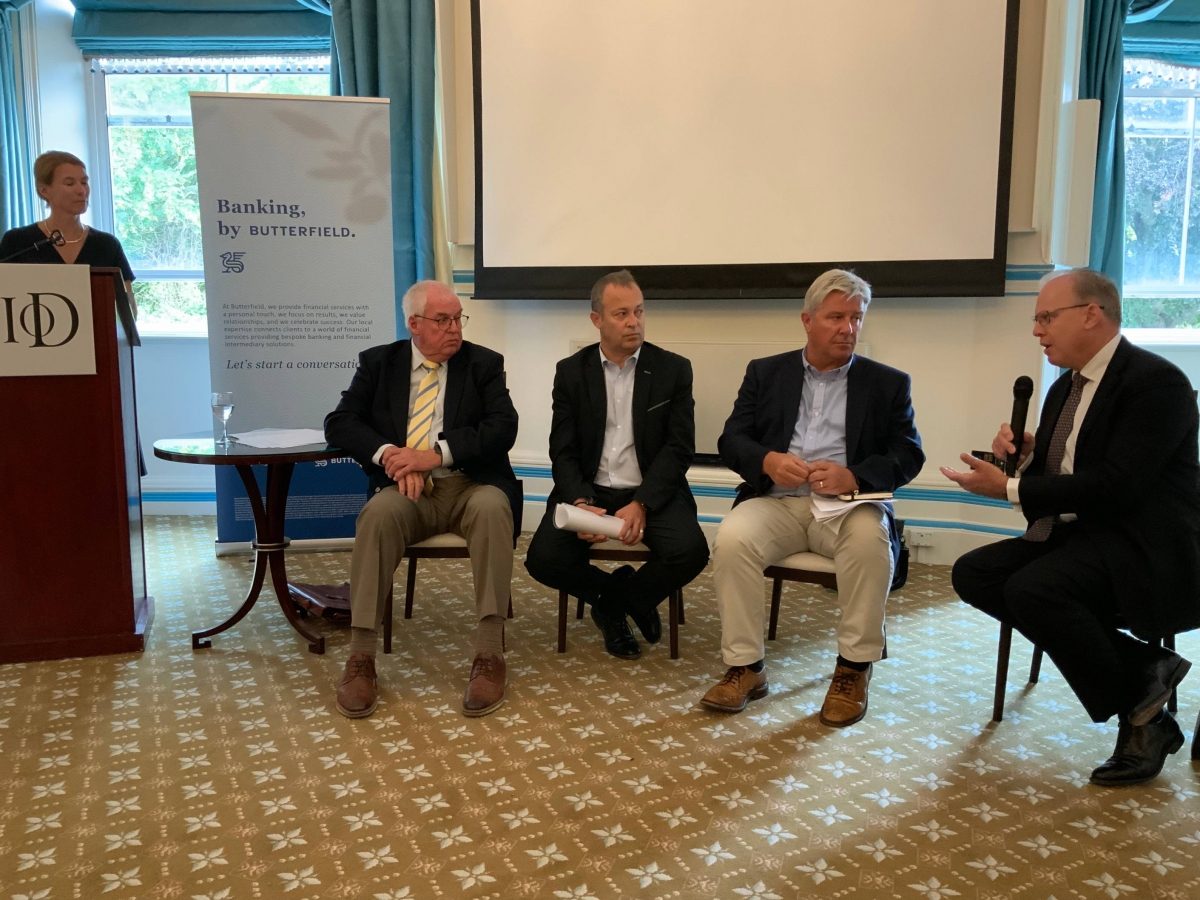 The conversation turned to emerging technologies and how they might impact Guernsey's air strategy. Nico said that green aviation is still at the early stages, with Airbus and Boeing expecting their technology to be ready by 2030. However, Aurigny is continuing to find ways to fly more responsibly including working with Blue Islands and reducing the use of the jet.
Jerry also noted that there are a number of businesses and organisations looking into hydrogen/ electric power in the Channel Islands and questioned whether this could be a viable option. He also acknowledged the challenges that smaller operators face as they typically produce higher emissions per passenger than larger planes. 
UK airport options and through ticketing were highlighted as important in the IoD's 2021 survey. Mark welcomed opportunities to travel directly to European countries like Germany, Switzerland, Luxembourg and Amsterdam, saying that it would greatly benefit the island's professional sector. He noted that whilst it's clear that direct routes have worked well for leisure travel this summer, there may not be the demand for regular, year-round services.
Paul stressed that businesses are keen to see a return to the London City route, he said that easy access to the City is important for the finance sector and its positioning against competitive jurisdictions.
On the subject of Heathrow, Nico noted that securing landing slots at the airport is becoming more costly and challenging due to increasing rates.
There will be no IoD Guernsey breakfast in August; the next breakfast will take place on Friday 23 September with a 'We Are Guernsey' Sustainable Finance Week Fringe Event focusing on partnerships to deliver the UN's climate change goals. You can find more information here.