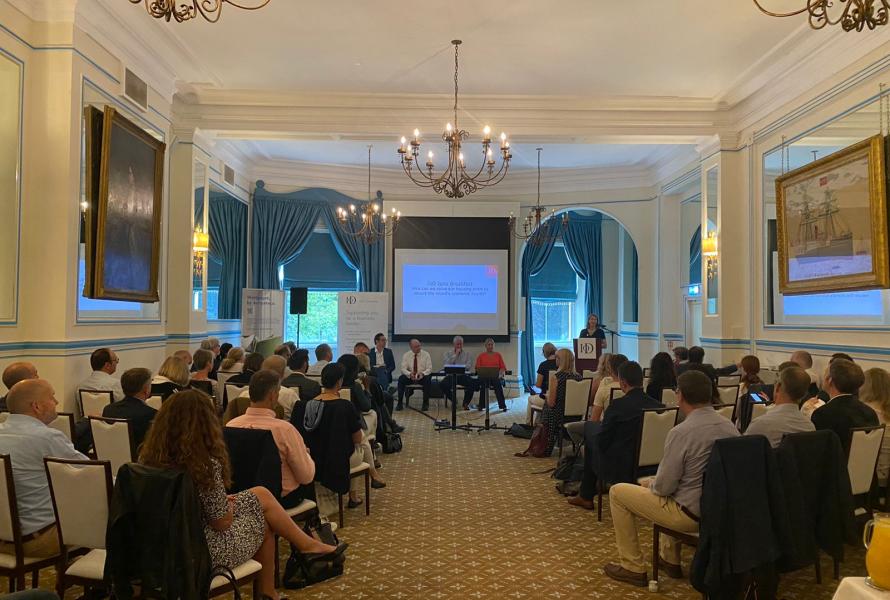 IoD Guernsey's June breakfast, sponsored by Butterfield, examined Guernsey's on-going recruitment frustrations and a number of the contributing factors such as the island's housing dilemma.
Wendy Dorey, IoD Guernsey Chair and event moderator, questioned the event's panel on a number of topics including whether there is a skills shortage, restricting legislation and the impact on Guernsey's GDP.
The event's panel included; Paul Hodgson, Chair of GIBA and Deputy Group Head of Trust at Butterfield Group, Victoria Oliver, President of Planning for the States of Guernsey, Paul Mason, Managing Director of RG Falla, and Rollo de Sausmarez, Founder of Beyond Strategy and expert on integrated transport. The panel also invited questions from the audience.
Here are the key takeaways from the event:
Guernsey's recruitment situation is a detrimental risk to the island's GDP and must be the focus of the current sitting States of Guernsey deputies. It cannot wait until the next term. 
Current legislation is ignoring the needs of young people. Many of Guernsey's young people moved to the island with their parents and are simply waiting to become 'local' before being eligible to buy or rent on the local market. This leaves a group of young people looking to move their skills off-island.
It was argued whether Guernsey could follow Australia's model of a point system for desired skills and job types.
Housing is proving to be the biggest contributing factor. The lack of skills and supply shortages are the major contributions to current delayed developments. It was estimated that the construction industry has lost 22% of its workforce in the last five years and will need to add 500 extra staff to manage the predicted demand.
The construction industry's recruitment shortage is a top to bottom issue and this is due to poor local legislation and the ease of working in other jurisdictions. 
Traffic flow will also become a larger part of development planning. The States of Guernsey's Environment & Infrastructure Department will be working closely with the Planning Department on construction's impact on travel.
Regarding redevelopment in general, the recent project at La Vallette Bathing Pools was put forward as the first step in the right direction. The announcement of its redevelopment was initially met with negativity but has since been celebrated across the community since its opening.
Our July breakfast will review Guernsey's current travel links and the possibilities and current limitations. The event will take place on Friday 22 July at the OGH. More details will be released via the IoD Guernsey website and social media pages.