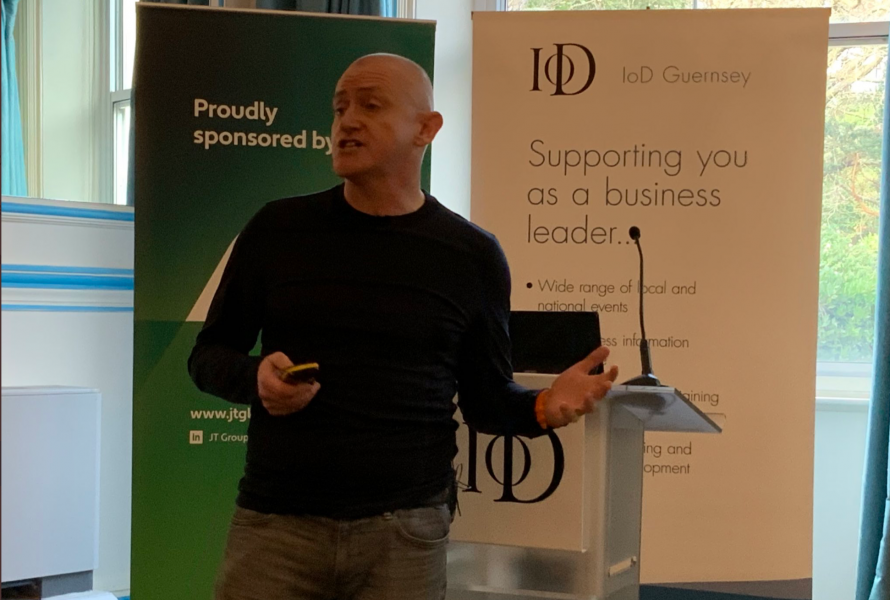 The third in the IoD's winter seminar series, sponsored by JT, focused on how Guernsey can make its digital vision a reality.
In June last year the States of Guernsey embarked on a 10-year partnership with digital technology specialist Agilisys. The partnership's vision is to transform the island's public services by improving the efficiency of government and delivering a better customer experience, as well as supporting the development of Guernsey's digital economy.
Richard Hanrahan, Chief Executive, Agilisys Guernsey, opened the seminar by setting out the States' strategic vision and positioned where Guernsey wants to be in 2026:  
-        A leading innovative and entrepreneurial community
-        The location of choice for a diverse range of low-footprint, high-value digital businesses
-        Maximising economic growth and opportunity for the island
-        Driving digital sector economic growth and competitive advantage
-        Delivering next-generation digital infrastructure
-        Developing the digitally skilled workforce of the future
-        A world leading and proportionate compliance and regulatory environment
Richard said: "We all have a responsibility to proect and grow the economy, digital technology is everywhere but the value isn't."
"It's not just about how people work with technology, but how technology works for people and how Guernsey can leverage the power of FinTech, HealthTech, digital learning, apprenticeships and much more to deliver real change for all islanders."
Richard discussed how global trends affect us all and how technology enables us to take advantage of these trends whilst maximising the opportunity these present in our own way. He used a quote from Sir Ken Robinson to sum up his point around how technology's effectiveness is affected by engagement, skills and leadership: "We need leaders who are less concerned with command and control and more interested in climate control."
Jennifer Strachan then moderated a panel session which Richard joined, along with Paul Taylor, Managing Director of JT Guernsey, Agilisys's strategic Prime Partner; Meriel Lenfestey, the IoD Guernsey's lead on digital connectivity; and Olly Duqemin from Resolution IT. 
Richard talked about Guernsey having a digital skills shortage and the need for upskilling in this area. He said it was vital to invest in skills locally and that would become a point of difference for the island. Paul Taylor agreed.
Meriel Lenfestey discussed her vision for digital Guernsey: "To empower Guernsey businesses to compete in a global market as if they were located in a major city, enabling them to genuinely leverage the other unique opportunities they have from being here. It should be an enabler to capitalise on Guernsey's other strengths." 
In closing, Richard said, "Technology is easy to replicate, the opportunity is how we apply it - the tough part is the people, culture and change. If we can get it right here, we can export that."
Agilisys has been working with the IoD on the Digital Leadership course being run locally in Guernsey, with the next course scheduled for 12 May.  You can find out more here.