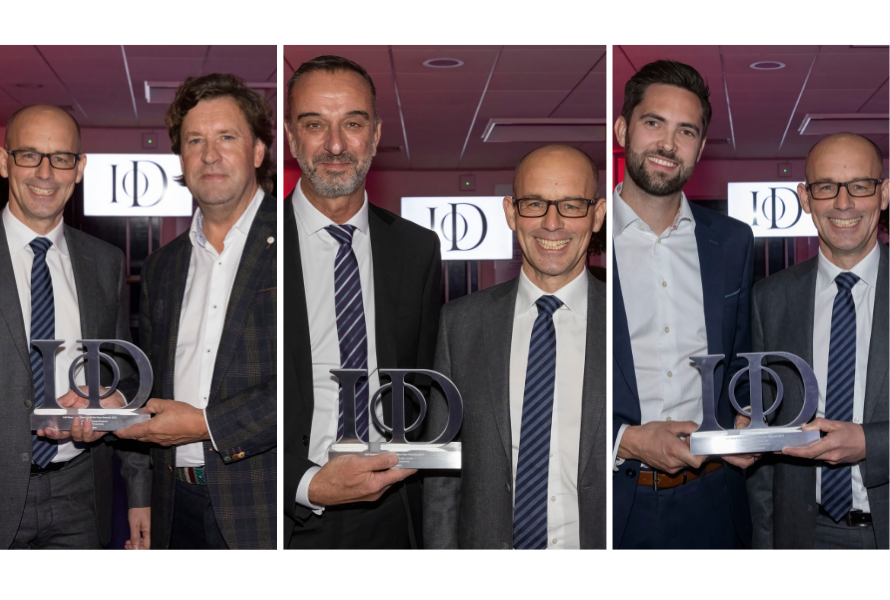 The Institute of Directors (IoD) in Guernsey has announced that Alan Bates, Chief Executive at Guernsey Electricity, Olly Duquemin, Chief Executive Officer at Resolution IT, and Alan Roper, Managing Director at Blue Diamond Group are the winners of this year's IoD Director of the Year Awards, sponsored by JT.  
The three winners were celebrated at this year's IoD Guernsey Annual Convention. Due to the high calibre of the submissions, the judges agreed to grant three leaders an award in this inaugural Director of the Year (DoY) Awards.
Alan Bates won the Public Sector Award, Olly Duquemin won the SME Award and Alan Roper won the Large Business Award.  
Roy McGregor, the Director of the Year Award's coordinator, said: 'The calibre of the winners' submissions was of a brilliant quality. I'm very pleased that all three represent the best of Guernsey directors.
'Guernsey has some of the finest directors I know and it's important they get recognition for their efforts. Leading an organisation today is a minefield and yet these three have navigated their businesses through some of the toughest months on record. I would like to thank everyone who supported and entered this year's awards and the judges who gave up their time to help.'  
The IoD Director of the Year Awards were set up to recognise excellence in leadership, proven governance skills and the individual's positive impact on the culture and success of their organisation.  
Daragh McDermott, Managing Director at JT Channel Islands, the sponsors of the Director of the Year Awards, said: 'The role of leaders is constantly changing and evolving - just like the world around us, which is why JT are pleased to support this important award.  Leadership brings many challenges, and success is built around a leader's ability to adapt, enable and empower their team to achieve collective and individual goals. The winners of this award demonstrate those skills which clearly have been central to their success, alongside a level of confidence, commitment and ambition which then followed through in their business strategy and values.'
Alan Bates has been the Chief Executive of Guernsey Electricity for more than 11 years and was chosen due to his clear, forward-thinking vision, his skills in managing the competing demands of many diverse stakeholders and his work on planning a net-zero future.   
Olly Duquemin was selected for the SME award after growing his business from a start-up to an employer with more than 50 individuals, operating across both Guernsey and Dubai. He demonstrated fantastic entrepreneurial skills, whilst retaining high levels of profitability and excellent stakeholder engagement.   
The large business award was presented to Alan Roper, as it was evident that he directly contributed to an increase in turnover and profitability across the Blue Diamond Group. He also utilised his deep industry knowledge and leadership skills to inspire and retain their local, loyal workforce.  
The Director of the Year Award's judges consisted of Stuart Falla MBE, Carol Goodwin, Roy McGregor, Gordon Wilson and Charlotte Denton. All have extensive experience across a variety of sectors.