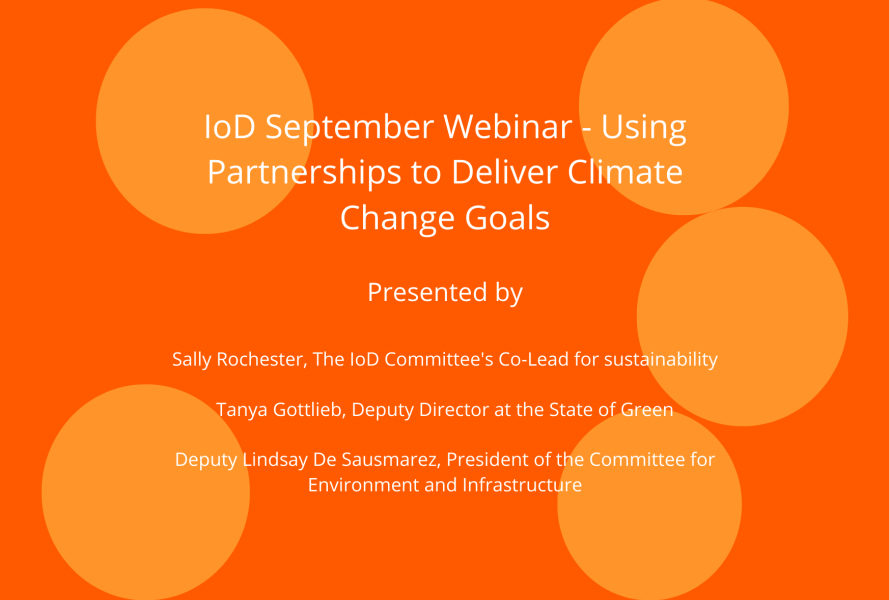 The IoD Guernsey September breakfast webinar focused on Using Partnerships to Deliver Climate Change Goals and hosted Sally Rochester, the IoD Committee's co-lead for sustainability, Tanya Gottlieb, Deputy Director at the State of Green in Denmark and Lindsay De Sausmarez, President of the Committee for Environment and Infrastructure. 

The event looked into how business leaders worldwide are incorporating the UN's Sustainable Development Goals (SDGs) into their business agenda. The breakfast webinar, sponsored by Butterfield, examined the Danish Government's Climate Partnership  model where 14 climate partnerships have been formed between the government, businesses and the third sector in a number of different sectors. Thanks to our Annual Digital sponsor, JT, for enabling this event to be live-streamed. 
In her presentation, Tanya made reference to a Climate Partnership Playbook which can be found here. The webinar recording can be found below. The IoD Guernsey's next event will be the IoD Convention on the 6 October, more information can be found here.